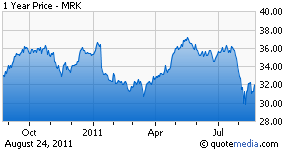 The recent market turmoil increased Merck's (NYSE:MRK) dividend yield to 4.8%. This yield, and the stock's defensive characteristics, makes it an attractive stock to own in this time of economic uncertainty. In the second quarter shares rose 6.8%. Since then, shares were down 9.1% with the overall market.
13F filings from the second quarter show moves with Merck from some big investors. Here are some of the Merck ownership highlights:
Merck makes up 2.3% of Robert Bruce's portfolio. It's his 11th largest position. Bruce runs the $300 million Bruce Fund mutual fund. He doubled his Merck holdings in the second quarter and now owns 136,000 shares. Bruce likes other health care stocks like Pfizer (NYSE:PFE) and Abbot Labs (NYSE:ABT) as well, but his largest holding is Amerco (NASDAQ:UHAL). Amerco offers truck, trailer, and self-storage units.
Jeff Auxier also doubled his Merck position in Q2. It now makes up 1.7% of his portfolio. He owns a bit more than 122,000 shares. Auxier is the portfolio manager for the Auxier Focus Fund mutual fund. Despite the name, the fund owns more than 130 stocks. This probably owes more to the requirements of running a mutual fund than anything else.
Bill Nygren owns nearly 2.1 million shares of Merck. He didn't make a move in the last quarter, but he did buy 500,000 shares in the first quarter. Nygren is a well known value investor and runs the Oakmark Fund. Nygren is more focused, currently owning fewer than 60 stocks. Merck makes up 1.8% of his portfolio. Nygren's largest position at the end of Q2 was Comcast (NASDAQ:CMCSA).
On the sell side of the transaction in Q2 was Hotchkis & Wiley. This investment management firm has more than $14 billion under management and runs a variety of fund and managed accounts. They sold about 2.8 million shares of Merck in the second quarter and continue to own 3.36 million shares. The stock now makes up less than 1% of their portfolio. Hotchkis & Wiley's largest position at the end of Q2 was Hewlett-Packard (NYSE:HPQ).
Two other large holders of Merck's stock trimmed their positions slightly in the last quarter. 105 year old Irving Kahn is a big fan of Merck. The stock makes up 8.9% of his portfolio. His 8,000 share sale last quarter was negligible. Kahn is a deep value investor and runs a focused portfolio. At his age, there's no reason to worry about hundreds of different stocks. In addition to Merck, he holds similarly sized positions in Pfizer and BristolMyers Squibb (NYSE:BMY).
Chris Davis of Davis Advisors also holds a large Merck position, 3.4% of his portfolio. He sold about 3 million shares last quarter of his 53.4 million share holdings. Davis has traded around his position since 2009, buying nearly 49 million shares that year. Merck is his 11th largest position. He also has a stake in Johnson & Johnson (NYSE:JNJ) that is about the same size as his Merck holdings.
Disclosure: I am long PFE, CMCSA.