I have been writing about the logic of putting new money to work into defensive stocks with good dividend yields (Johnson & Johnson (NYSE:JNJ), Wal-Mart (NYSE:WMT), Time Warner Cable, (TWC) etc.) over the past month as the market continues to be very volatile. I am also a big believer in big tech (Apple (NASDAQ:AAPL), EMC (EMC), Microsoft (NASDAQ:MSFT), etc.) based on their low valuations, growth prospects and pristine and cash rich balance sheets.
One sector I have found very few names worth speculating in has been the financial sector, due to the European debt crisis overhang and the sector's continued underperformance. However, one financial stock I think is worth taking a small stake in at these levels is Well Fargo (NYSE:WFC).
From Yahoo Finance: "Wells Fargo & Company, through its subsidiaries, provides retail, commercial, and corporate banking services primarily in the United States. The company operates in three segments: Community Banking; Wholesale Banking; and Wealth, Brokerage, and Retirement. The Community Banking segment offers deposits, including checking, market rate, and individual retirement accounts; savings and time deposits; and debit cards."
Here are 8 reasons to find value in WFC at under $24 a share:
1. It is at strong technical support levels where it has bounced off several times in the last year (see chart).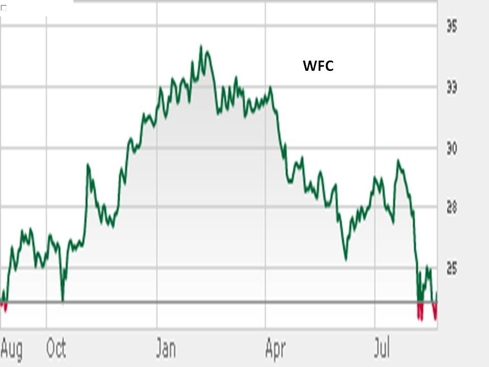 Click to enlarge
2. WFC has done a good job staying away from the ire of state and federal regulators, whose favorite piñatas at the moment seem to be Bank of America (NYSE:BAC) and Goldman Sachs (NYSE:GS).
3. It has met or beat earnings estimates each of the past four quarters, and consensus estimates for 2011 and 2012 have gone up over the past three months.
4. Wells Fargo has an AA- rated balance sheet and provides a dividend yield of 2.1%.
5. WFC has a rock-bottom valuation, selling at just 8.5 times this year's expected earnings and under 7 times 2012's consensus EPS. It has a five year projected PEG of just .63.
6. Its funding costs are among the lowest in the industry, and its loan loss provisions should continue to decline.
7. Given the overwhelmingly negative tone of anything connected to the financial sector, the slightest bit of good news or any resolution in Europe should have huge positive implications for Wells Fargo's stock price.
8. WFC is significantly under analysts' price targets. Credit Suisse has a price target of $34 on Wells Fargo, S&P is at $30 and the median analysts' price target is at $35 on WFC.
Disclosure: I am long JNJ, WMT, AAPL, MSFT, EMC, and I may go long WFC in the next 72 hours as well.