Back in December I wrote an article for Seeking Alpha on the subject of the gold bubble, discussing whether it was, in fact, a bubble and, if so, when it might burst. The piece was based on a paper from the Research Institute of Mining Geomechanics and Mine Surveying and the Russian Academy of Sciences, which applied Didier Sornette's approach to correlating crisis points in financial markets to the price of gold, and concluded that it would reach a "critical point" early in July 2011.
July has come and gone, and gold has only run higher--at an even faster pace as a result of global credit crisis part II. Naturally, talk of a bubble has effervesced anew. For example, Business Insider cited comments from Nouriel Roubini and from Wells Fargo, the former arguing the bubble case and the latter defending the uptrend.
From Roubini's August 12 interview with The Wall Street Journal:
This is not the time to be in risky assets. Commodities are going to collapse if there is a recession like other risky assets. Gold is a hedge against tail risk, either of high inflation--I don't worry about high inflation because the slack in the goods, the labor market and housing is going to get bigger and [there will be] more deflationary risk rather [than] inflationary risk....

But gold is also a hedge against another financial meltdown and a global financial crisis, where deposits are not safe and even government debt is not safe anymore. So if you get to that point of paranoia, it's time to buy canned food, guns, ammunition, gold bars and run to a cabin in the mountains--that's the mentality that leads gold to be $1800 and above...so because of that gold can go higher.
Higher, indeed. Cullen Roche posted highlights of the Wells Fargo case on his Pragmatic Capitalism blog on Monday:
The real gold price has not yet reached the high of about $1,952/ounce at today's prices seen in January 1980, but it is very close. In addition, prices have gone "parabolic," meaning they have risen by an extraordinary amount in a very short period of time....Thus, it is possible we could see a near-term pullback in gold based on this technical pattern. However, based on the aforementioned factors driving gold's meteoric rise, the pullback may not be very large and will probably not last very long before gold prices start to rise again....

In the five years prior to their respective peaks, the NASDAQ rose 500 percent and oil rose 340 percent. Over the last five years, gold has not seen nearly the trajectory of increase, rising only about 200 percent. Thus, based on this metric, gold does not yet appear to be in a bubble à la the NASDAQ in 2000 or oil in 2008....

While gold has soared, oil has dropped to around $84/barrel amid growing concerns about slowing global growth. As such, the gold-oil ratio has jumped to 22.4, well above the historical average of 15.5 but certainly not unprecedented....At this time, both the jump in gold prices and the plunge in oil prices appear to be justified by fundamentals. This ratio may decline a bit in the coming weeks, but we do not foresee an outright crash in gold prices.
Rober Sinn posted an excellent analysis of gold vs. oil on The Stock Sage this morning. Some key points:
The monthly chart of the gold/WTI ratio going back to 1983 shows us that this ratio has been much higher in the past when the price of oil was rather depressed (in 1986 oil was below $10/barrel). World oil demand was much lower in 1986 than it is today, moreover, global oil production was in an upward slope in 1986 which is not the case today....

Oil is clearly in high demand while supply continues to dwindle at an accelerating pace. What about gold? Gold is not "consumed", instead it is primarily used as a financial instrument by investors seeking to diversify away from fiat currencies and protect themselves against financial system risks (and whatever other real or imagined reasons they might have)....

The key difference between oil in June 2008 and gold in August 2011 is that gold isn't strongly correlated with the health of the global economy. In fact an argument can be made that if the global economy slumps back into recession, additional loose/stimulative monetary policies of global central banks will serve to further devalue fiat currencies thereby increasing the gold price even further. In my opinion the gold/WTI ratio is in the process of adjusting to a higher range, perhaps in the 18-22 area. However, yesterday's 22.4 high ratio stretched the rubber band a little too far.
What's a trader to do?
Suppose you want to take the bearish view and expect gold to enter a correction this month, but you're concerned about getting crushed if the yellow stuff takes off again? One way to profit from a downward move with little upside risk would be a broken-wing butterfly using GLD options.
Let's pick a reasonable target for a pullback in GLD. As the daily chart below shows, the last major high before the July/August run-up was $155. From a technical standpoint, that's both a downside target and an important support level.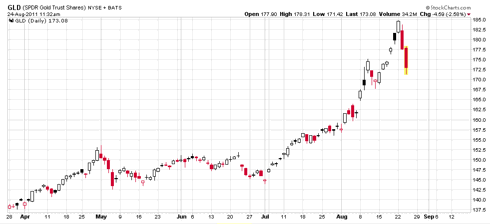 If we are, indeed, seeing the first leg of a new downtrend, the share price has a good chance of reaching our target by September options expiration. Based on the target price and timeframe, let's consider the following trade:
Buy 1 GLD Sep 165 put
Sell 3 GLD Sep 155 puts
Buy 2 GLD Sep 145 puts
The above trade is currently priced at about $0.55/share, which represents our maximum loss (approximately 5%) if gold goes to the moon. But if GLD is anywhere between about $150.30 and $164.45 at September expiration, the position will be profitable, with a maximum potential gain of about 85%.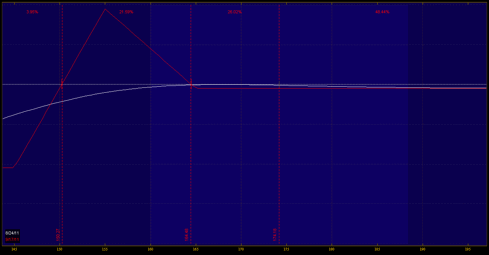 As with any options trade, we face a worst-case loss of 100% of total capital at risk (about $10.50/share) if gold crashes in a spectacular implosion within the next few weeks--an extremely unlikely scenario, but an important one to consider. For that reason we need a stop-loss rule. Depending on how much time has passed since entering the trade and one's individual risk-tolerance, a GLD share price somewhere in the $150-$155 range would be appropriate.
Going up?
For the complementary, bullish trade, it's a little harder to set an upside target--so we're going to base our short strike on market expectations, as determined by the implied volatility of September GLD options. A one-standard-deviation gain between now and expiration would take GLD to about $188. With a little tweaking to mirror the risk profile of the above, bearish trade, we get the following:
Buy 3 GLD Sep 179 calls
Sell 7 GLD Sep 188 calls
Buy 4 GLD Sep 203 calls
The price for this trade at the time this article was written was about $1.05 per multiple of the above position--so here, too, our maximum loss if gold turns against the position is the $1.05/unit cost (x100 shares = $1050, approximately 3% of total capital at risk). Total capital at risk is about $3405 per unit, which would be the maximum loss if gold rallies well past $200/oz.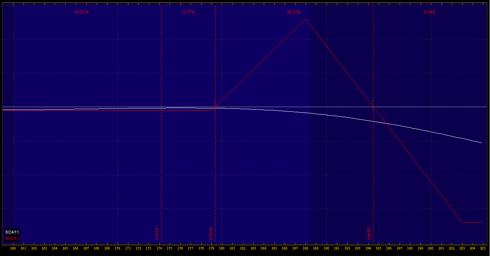 The maximum potential return, if one were to hit the lottery with GLD closing at exactly $188 the Friday before expiration, is about 76%. Given the negative vega of this position, we can afford to stretch our maximum stop-loss price as high as about GLD $196.
So whether you're bullish or bearish on gold, options provide a way to profit from your directional thesis with minimal risk if that thesis turns out to be wrong. Going forward, I'll continue to focus on options trades that offer an exceptional risk/reward proposition based on the underlying equity's fundamental and technical directional bias.