I ran across Activision Blizzard (NASDAQ:ATVI) when reviewing a list of stocks that are widely followed by the readers of Motley Fool and had to find out what they do.
Activision, through its subsidiaries, publishes online, personal computer, console and handheld games worldwide. The company develops and publishes PC-based computer games and maintains its proprietary online-game related service, Battle.net. It publishes interactive software products and peripherals. Its products cover various game categories, such as action/adventure, action sports, racing, role-playing, simulation, first-person action, music and strategy.
Activision''s products comprise Monsters vs. Aliens, Guitar Hero, X-Men Origins, Prototype, Transformers, Ice Age, Wolfenstein, Marvel Ultimate Alliance, Bakugan Battle Brawlers, DJ Hero, Band Hero, Call of Duty, Tony Hawk, Guitar Hero, map packs for Call of Duty, True Crime, Spider-Man, Bakugan, Blur and Singularity. Its customers include retail outlets and distributors, including mass-market retailers, consumer electronics stores, discount warehouses, and game specialty stores. Activision Blizzard is based in Santa Monica, California. (Yahoo Finance profile)
The stock may just be turning a corner after all the M&A activity between Activision and Vivendi is completed.
The price action is in recovery as this Barchart graph of the the price movement for the last 6 month versus the 20, 50 and 100 day moving averages shows.
Click to enlarge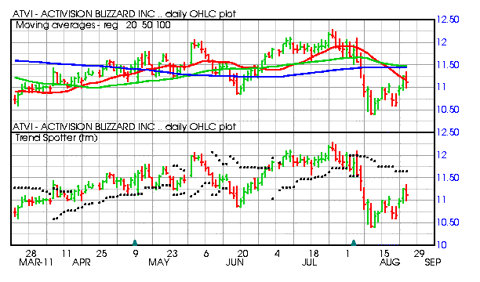 Let's see what is going on with this stock:
Barchart technical indicators:
On Barchart the sell signals are weakening and the buy signals are starting to strengthen.
At the present time Barchart has a short term Hold on this stock.
The Trend Spotter still has a technical sell signal but the sell signal is weakening.
The stock trades below its 20, 50 and 100 day moving averages as I write this article but it might break the 20 day moving average at any time.
In the last five days the stock hit five new highs but is up only a net of .82% for that period.
Barchart computes a technical support level at 10.79.
Relative Strength Index is at 47.73% and getting stronger.
It recently traded at 11.11 which is slightly below its 50 day moving average of 11.47.
Fundamental factors to consider:
Short term there are sales and profit momentum problems but forward projections are better.
Wall Street brokerage analysts project a decrease in sales of 14.80% this year but an increase of 11.90% next year.
Earnings growth is expected to be flat this year but increase by 17.70% next year and continue by 14.59% annually for the next five years.
Based on these numbers brokerage analysts have published 10 strong buy, 10 buy and three hold recommendations.
The company has had positive cash flow for some time and even pays a 1.5% dividend which is around 30% of projected earnings.
The company didn't introduce many new products this year and all projection are based on an aggressive update of many of the existing games and the development of new games in the future.
In my opinion the money used for a recent share buy back program would have been better spent by bringing new products online sooner.
General investor interest:
As measured from the readers of Motley Fool this stock is in the top 25 of all the stocks on readers watch lists with 97% of the 6.993 readers expressing an opinion that this stock will beat the market.
The more experience and savvy All Stars vote 98% for the same result.
Summary: Activision is a speculative stock combining computer technology and interactive entertainment. The stock should do well if it continues to refresh and update its current game offerings but will do great if it will invest some of that positive cash flow to develop new and even more spectacular games in the future. If the analysts sales and earnings projections materialize I look for investors entering at this price level to see an 18% - 23% annual total return over the next five-year period. I know those projections seem wide but we are talking products that must attract the fad crazed youth market. To succeed there you must stay ahead of the curve.
Disclosure: I have no positions in any stocks mentioned, and no plans to initiate any positions within the next 72 hours.