Over the last year, gold has drastically outperformed gold miners, with gold rising nearly 50% while gold miners, as measured by the NYSE Arca Gold Miners Index, only rose a little over 15%.
Click to enlarge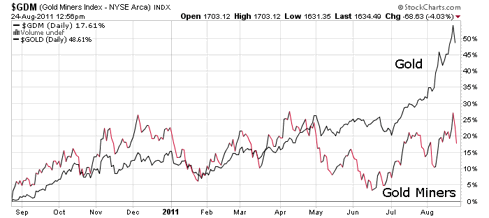 Since many gold investors like to own gold miners in addition to gold, this brings up the question: should investors allocate more to gold or to gold miners?
One tool for measuring the relative value is the ratio of gold miners to gold. When this ratio is high relative to its history, then it can mean gold miners are overvalued compared to gold and are likely to underperform. On the other side, when the ratio is low, then it is likely that gold miners are undervalued and are set to outperform.
To create a gold to gold miners ratio, I used the NYSE Arca Gold miners index as far back as there are numbers, and the PHLX Gold & Silver index for prior to that period. The reason I don't just use the PHLX Gold & Silver index for the whole time is that it is more concentrated in the large miners and has some companies that only derive a small portion of their revenue from gold. It is useful, though, for historical purposes because it is one of the first gold miner indexes.
Click to enlarge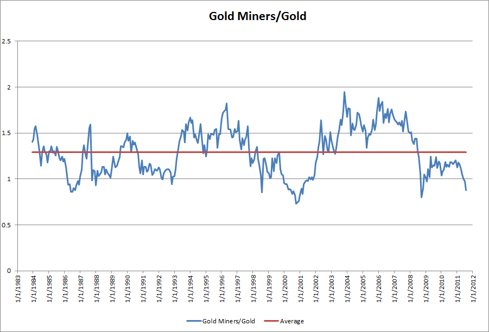 Currently the gold miners to gold ratio is very low, approaching its lowest point ever. This means that gold miners have a good chance of outperforming gold over the next several months to a year. In fact, the few times when the ratio was as low or lower than it currently is all resulted in gold miners outperforming gold over the next year.
The simplest way to play this is to buy the Market Vectors Gold Miners ETF (NYSEARCA:GDX), the largest and most liquid gold miner ETF. A slightly more aggressive play would be to buy the Market Vectors Junior Gold Miners ETF (NYSEARCA:GDXJ), which invests in smaller more volatile mining companies. For those who are looking for even more aggressive returns, the Direxion Daily Gold Miners Bull 2x ETF (NYSEARCA:NUGT) is the way to go. It has more risks, though, so be sure you understand it thoroughly before jumping in.
Disclosure: I have no positions in any stocks mentioned, and no plans to initiate any positions within the next 72 hours.