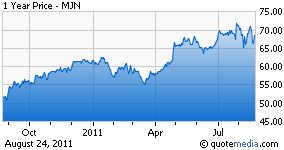 The fact that emerging markets offer multi-national consumer goods companies a growth opportunity isn't breaking news. Everyone knows the global population is growing. But just how important are these developing countries to Mead Johnson (NYSE:MJN), the maker of Enfamil, and why should investor's pay attention?
Globally, the infant and child nutrition market is expected to grow by $10.4 billion from 2010 through 2015 with the lion's share of growth coming out of Asia, which will account for $6.6 billion of the market expansion and represent 52% of the global market. This growth also comes on the heels of significant growth last decade. Mead's China sales rose from $74 million to $745 million from 2001 through 2010, good for a 26% compounded annual growth rate.
And Asia isn't the only market where middle class growth is fueling demand for infant and child nutrition products. The second fastest growing market is Latin America, where the industry will expand by $1.2 billion through 2015.
This fast growth boosted Mead's Asia and Latin America sales by 30% last quarter, nearly three times its growth in developed markets. Overall, quarterly net sales in Asia and Latin America were $611.6 million, 90% more than the $320.4 million in North American and European sales.
This rapid growth also is coming against a much larger base. While 68% of Mead's sales came from North America and Europe in 2000, these two regions generate only 39% of sales today. And the percentage will continue to fall since eight of the company's top 10 largest markets by sales are emerging nations. Thanks in great portion to Asia and Latin America, Mead's revenue has gone from $2.2 billion in 2005 to $3.14 billion last year.
Also important, emerging markets are overwhelmingly embracing Mead's premium products, which helps margins. Here in the U.S. 68% of Mead's revenue comes from premium products. But in China, 91% of sales are premium branded. And while pricing was a 1% drag on North America and European sales, pricing accounted for 3% of the growth in Asia and Latin America. This means volume is the driving force behind the company's growth. It also means emerging market prices remain sticky, which is why Mead's gross margins were 120 basis points higher last quarter than last year.
As for this year, Mead is guiding 14% constant currency sales growth and gross margins of 63.2%. Next year, analysts expect earnings to grow another 15%, to $3.17 per share. This means from 2010 to 2012, earnings will expand some 31%. Not bad for a consumer stock.
Additionally, Mead sees significant sales opportunity in places like India, Russia and the Middle East. Building its business in these markets means the company will increasingly untie itself from economic concerns weighing on Europe and the U.S. Given Mead's growth rate is more in line with a technology stock than a consumer goods stock, and Mead's yield, which is currently 1.5%, stands to benefit as its cash flow increases, investors buying current market weakness should be rewarded.
Disclosure: I have no positions in any stocks mentioned, but may initiate a long position in MJN over the next 72 hours.