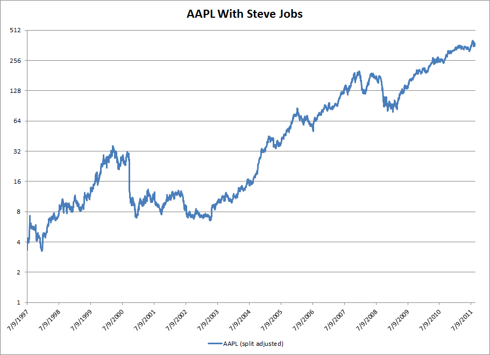 Click to enlarge
Steve Jobs has obviously had an enormous, positive impact on Apple (OTC:APPL). When he returned as CEO in 1997, the company was close to dying and the stock was near multi-year lows. Since then, Steve Jobs has led Apple to become the most valuable tech company and for a short period earlier this month, the overall most valuable company. With such success at Apple, he has deservedly achieved legendary status as a CEO. However, as he has just resigned as CEO of Apple, it makes sense to evaluate whether shares in the company should be sold.
Much of Apple's success has come from strong vision, coupled with near perfect execution. Apple's new CEO, Tim Cook, has been at the company since 1998 and has been managing the day-to-day operations for a while already as COO. Whether he is the visionary that Steve Jobs is, we will only be able to tell in several years' time, but we do know that the execution will likely stay the same because as COO, he has already been in charge of it. In addition, he has already filled in as CEO several times while Steve Jobs was on medical leave, and it is unlikely in the extreme that he would be tapped for the job now if he wasn't a great fit previously.
What may be nearly impossible for Tim Cook to replicate, is the growth rate of the company. With the company valued at nearly $350 billion, it will be harder to find new businesses or products that can make a large impact on profits. Historically, the most valuable companies in the world have had trouble maintaining their position, and the difficulty of growing large businesses only adds to the likelihood that Apple won't be a great growth stock in the future. In fact, Apple is arguably closer to a value stock, with its p/e ratio at only 14.79. For a company that's grown revenue by slightly over 80% during the last year, that is actually very low. And perhaps that's how it should be, because Apple has reached a point where it is improbable in the extreme for it to achieve growth rates far above average, although moderately high growth rates are still likely.
Overall, I don't see that Steve Jobs' resignation as CEO should be any reason to sell shares of Apple. Steve Jobs is still going to be taking a role in determining the company's future, and Apple's near-perfect execution is unlikely to change. However, Apple is already a very large company, and finding large, new growth opportunities will be a lot harder, so shares of Apple don't have much chance of outperforming the market by a huge margin.
Disclosure: I have no positions in any stocks mentioned, and no plans to initiate any positions within the next 72 hours.