In the search for companies that have outperformed in a persistent way, we ran a screen on micro-cap biotech stocks (with market caps just above $100 million) for those that have seen a persistence of days in which the stock beat the S&P 500 benchmark over the last month and little persistence in underperforming the S&P 500, i.e. long winning streaks and short losing streaks, as measured by a ratio of the longest winning streak to the longest losing streak.
Although past performance is no guarantee of future results, winning streaks may indicate upward momentum and positive sentiment.
Interactive Chart: Press Play to compare changes in analyst ratings over the last two years for the six stocks mentioned below. Analyst ratings sourced from Zacks Investment Research.
We also created a price-weighted index of the stocks mentioned below, and monitored the performance of the list relative to the S&P 500 index over the last month. To access a complete analysis of this list's recent performance, click here.
click on image to enlarge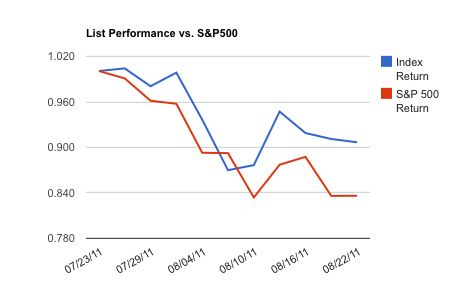 Do you think these stocks will keep winning? Use this list as a starting-off point for your own analysis.
List sorted by win streak/lose streak ratio.
*Price data sourced from Yahoo Finance, all other data sourced from Finviz.
Disclosure: I have no positions in any stocks mentioned, and no plans to initiate any positions within the next 72 hours.