It has been a rough couple of months for investors of Cablevision Systems Corporation (NYSE:CVC). In the last month, investors witnessed vaporization of almost one third of Cablevision's capitalization. As expected average volume has increased in the past couple of weeks, with some days trading four to five times the normal average. Since the spin-off, the stock has not performed well at all. Fortunately, it appears that current investors will be able to see an end to the bleeding, and provide an opportunity for new investors (or current ones adding).
Cablevision Systems Corporation, through its subsidiaries, operates as a telecommunications, media, and entertainment company.
Cablevision definitely has issues, including the loss of 23,000 video customers in the quarter as reported by Reuters. Near term growth appears to be very slow, and competition is strong from rivals AT&T (NYSE:T), and Verizon (NYSE:VZ), as both increased their market share. Verizon has added almost 200,000 FiOS TV subscribers, and AT&T over 200,000 subscribers to their U-Verse TV offering. DIRECTV (DTV), that has also lost market share to AT&T and Verizon, is the biggest single direct competitor of Cablevision. DIRECTV has started offering NFL Ticket to homes that switch from another provider like Cablevision, over to DTV.
Additionally, the slow housing market is not doing any favors for Cablevision, and very little appears to offer any hope of the situation improving soon. Cablevision has another competitor, the internet in general. Subscribers are being lost to homes that are "cutting the cord" and connecting TV's directly or indirectly to the internet to provide content. This is likely to be less of an issue for Cablevision, compared to companies like DIRECTV, because Cablevision offers the internet connection for the homes. As a content owner, Cablevision is able to profit from a diversification of revenue streams.
I read over the earnings release documents and call transcript and I liked what was found. I believe the combination of a new discount in price, along with the high premium being paid for out of the money $17.00 put options, there is opportunity.
Jim Dolan, President and CEO had this to say:
For the first six months of 2011, Cablevision generated $354 million in free cash flow, a 31% increase over the prior year on a pro forma basis. Even without the contribution from Bresnan, free cash flow would have increased by 21%.
Tom Rutledge, Chief Operating Officer
Telecommunications revenue for the quarter was $1.6 billion, an increase of 9.8% over the prior-year period. Excluding the impact of the recently acquired Bresnan properties, total revenue growth was 1.7% year-over-year. In the second quarter, our total company results included an increase of 5,000 high-speed data customers, 27,000 new voice lines and a video loss of 23,000

Optimum business service has grown steadily. Optimum Lightpath revenue was $77 million in the quarter, which was an increase of 9% versus the prior year period. Lightpath now provides service to over 4,700 buildings, an increase of 17% over the prior year.
Short interest is very small at 3.6%. I like to see small short interest in a stock. Knowing there is not a lot of "smart money" betting against the stock is a big positive for me.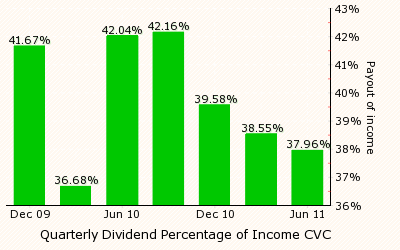 As a result of the rather steep drop in price, the option premiums have moved higher. Currently, the September 17 put options can be sold for $0.85, the 16s can be sold for $0.50. I reviewed other contracts, but there simply is not enough volume in the back months for me. In regards to another stock, Safeway (NYSE:SWY), I wrote an article about selling puts also. The premium is not as rich as it is with Cablevision as the beta with Cablevision is much higher at 1.63. This implies that the stock can be expected to be more volatile than the overall market.
For the same fiscal period year-over-year, revenue has improved to $7.23 billion for 2010 vs. $6.85 billion for 2009. The bottom line has rising earnings year-over-year of $360.95 million for 2010 vs. $285.57 million for 2009. The company's earnings before income and taxes are rising with an EBIT year-over-year of $1.53 billion for 2010 vs. $1.35 billion for 2009.
On top of everything else, Cablevision pays a dividend with a current yield of 3.5%. By selling the $17 strike price put options that expire in September, if the price of the stock does move lower I will have an entry price of $16.15. This brings the yield higher and I would be happy to own the stock at $16.15 a share.
I use a proprietary blend of technical analysis, financial crowd behavior, and fundamentals in my short-term trades, and while not totally the same in longer swing trades to investments, the concepts used are similar. Based on my criteria, I have come to the following conclusion: This one is worth the time for me to investigate further for an ideal entry price to either write put options or buy the stock. Of course that in itself does not mean you should, but you may want to use this article as a starting point for your own research with your financial planner.
I use Seeking Alpha, Edgar Online, Google Finance, MSN Money, cnbc.com, Zacks and Yahoo Finance for most of my data.
Disclosure: I have no positions in any stocks mentioned, but may initiate a long position in CVC over the next 72 hours.