The acquisition of remaining shares in CNA Surety by CNA Financial (CNA) fed into a severe drop in net operating income for the second quarter of 2011, leaving analysts to question the move by this leading property and casualty insurer. CNA Surety handles surety bond sales, a form of insurance carried as a hedge against contract and other losses, most commonly found in construction, banking, and entertainment industries.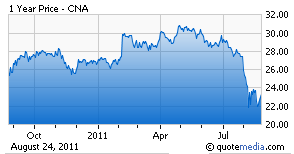 With the purchase of remaining shares of CNA Surety at $26.55, CNA Financial, owned by Loews (L), experienced a gutting of net operating income, from $269 million in the second quarter of 2010 to $119 million in the same quarter in 2011. Natural disasters and catastrophes fed into the $153 million decrease as well.
CNA Financial's performance affected Loews' earnings, contributing to Loews' 31 percent drop in net operating income for the second quarter of 2011. Loews owns 90 percent of CNA Financial.
In an August 1 call with investors, Thomas Motamed, Chairman and CEO of CNA Financial, stressed that the acquisition of CNA Surety is part of "continued improvement in our ability to serve customers and increase shareholder value."
On August 11, CNA Financial announced that it would sell its stake in First Insurance Co. of Hawaii Ltd, valued at $165 million, to Tokio Marine & Nichido Fire Insurance Co. Ltd. CNA shares rose by 4.6 percent after the announcement, though still barely hovering above its 52-week low of $21.57 per share, and down nearly 25 percent since the beginning of August. Is the bearish trend over?
The stock price drop can't be blamed solely on recent market trends or the purchase of the surety bonds division; the Q2 reports and the August 1 investor call correlate directly with the downward trend. Although the CNA's selling of its stake in First Insurance Co. of Hawaii helped boost the price, the bump was minor compared to the past three weeks of bleeding.
Chairman and CEO Motamed filed a Form 4 on August 5, 2011, to purchase 40,000 shares of CNA Financial stock at a price of $24.26, indicating strong internal support for the stock's growth. As Barron's noted, Motamed is part of a trend of insiders buying stocks during the market drop, in contrast to sellers dumping stock in the aftermath of Standard & Poor's downgrade in the U.S. credit rating.
With a market capitalization of $6.17 billion, a dividend yield of 1.77% and a P/E ratio of 12.60, CNA Financial seems to have bottomed out and is making a slow rebound. Investors may want to hold or buy CNA Financial at this point.