In recent weeks, the heightened fear of an economic recession has firmly gripped the market. The risk-off trade has wiped out close to $8 trillion across financial markets. Investors are fleeing equities and piling into Treasuries driving yields to record low levels. With Bernanke's speech and the August Employment report likely the move markets one way or another, investors across the globe should consider rebalancing their portfolios. However, the looming question remains: Where is a safe place to put one's cash but still generate a decent return?
I hope to shed some light on that question by outlining a few railroad stocks that pay solid dividends but more importantly will be some of the first few companies to experience price appreciation when the economy gains firmer footing. Railroad companies typically serve as a barometer for the overall economy. An improvement in rail traffic usually signals an increase in demand for anything from raw materials to finished goods.
Railroads move the majority of materials throughout the country across 150,000 miles of track. Transporting goods via rail is also cheaper than by truck. As the price of fuel remains elevated, it would be safe to assume that demand for railroad transportation will outpace that of trucks. Additionally, shipping goods by trucks carries a wide array of external factors including noise, pollution, and accident costs.The chart below shows the divergence between freight carloads on rails and truck loads. The white line represents trucks and the orange line represents rails.
[Click all images to enlarge]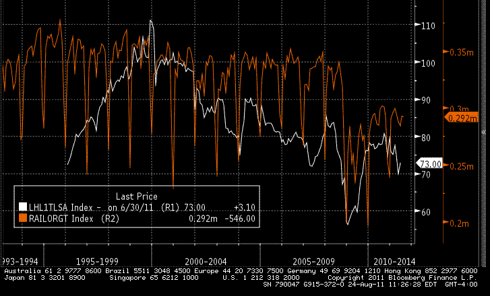 Click to enlarge
According to carload traffic released by the AAR but downloaded via the Bloomberg product, there has been a general decline in the number of freight carloads. On a year over year basis, carloads have been declining since January. In fact, the weekly average of freight carloads was down 0.1% in July compared to the prior year. This was the first monthly decline since February 2010. This data is a bit disconcerting given how rail traffic tracks economic expansion.
However, carload traffic is beginning to show encouraging signs. Rail traffic is rising from record low levels at a solid pace.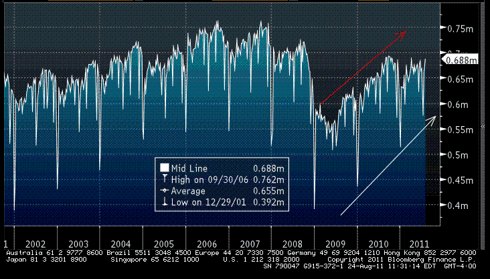 Click to enlarge
In order to make a proper investment, one must have a thorough understanding of the industry and the companies that operate within it. There are 4 major railroads in the US. The largest is Union Pacific (NYSE:UNP), with 32,000 route miles of track spread across 23 states. Burlington Northern Santa Fe (BNI), also covers roughly 32,000 miles across 28 states. Norfolk Southern (NYSE:NSC) has about 20,000 route miles of track across 22 states. It is a major operator in the Eastern half of the U.S., transporting mainly coal and other industrial product from mines and seaports, while UNP and BNI cover the Western two third of the country. The largest operator east of the Mississippi is CSX Corporation (NYSE:CSX) with about 21,000 route miles.
Below, I have charted some key characteristics from the major publicly traded railroads in the US, including 1 Canadian.

Click to enlarge
Of the major railroads, Norfolk Southern is the most appealing to me. However, it is the smaller of the two major railroads east of the mighty Mississippi. NSC reported a record $557 million of net income in Q2, up more than 40% from the comparable period in 2010. Revenue from their major commodity, coal, was up around 30%. The increase in coal revenue is a sign of demand from the industrial and manufacturing sector. Typically, that industry leads recoveries and also tends to foreshadow weakening growth. The increased dividend was as expected. The company has increased its dividend payout for 29 years. In late July, the NSC finished track work that will make the transport of coal and other commodities much more efficient. Improving the rail conditions will allow for faster transport and the ability to make more delivers, in turn providing a boost to revenues.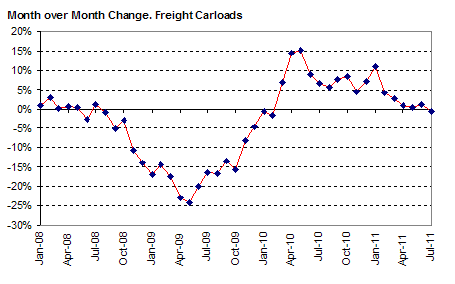 NSC's strong financial position helps to distinguish itself from other railroads. It has the highest dividend yield among its competitors at around 2.4%. NSC produces strong margins, including a profit margin of 19.4%, the highest in a single quarter since 2005. Revenue has been rising quite noticeably since Q2 2009.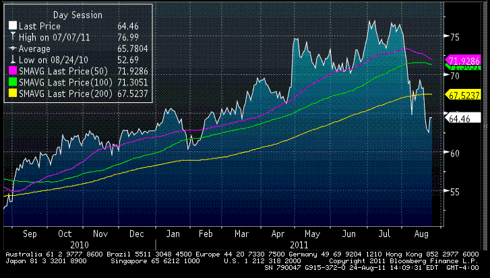 Click to enlarge
Investing in Union Pacific Company is also an appealing idea. The company has also produced tremendous revenue for the past 10 quarters including its best results ever in Q2. Its intermodal freight revenue increased 19% from the prior period, the largest of any railroad. Its leverage ratio sits at around 2.43, the lowest since 2007. Stronger operating income has solidified their coverage ratios especially EBIT/Interest Expense. The ratio came in at 9.41 in Q2, the highest on record. Not to mention, UNP is the largest railroad company in the U.S. As the chart below shows, UNP is trading significantly below its moving averages suggesting at least, that the stock will revert back to those levels. In fact, the roughly $8.81 spread to its 200-day moving average is the largest since the depths of the recession in 2009.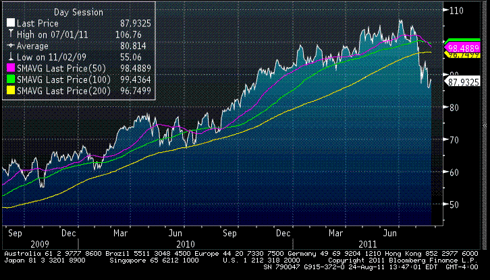 Click to enlarge
All in all, it is clear that their companies are trading sharply below their fair value. The recent global sell-off has presented an excellent buying opportunity. Once the heightened fears of recession begin to ease, demand for raw materials will pick up. Railroads are likely to be the first to benefit from this expansion.
Disclosure: I have no positions in any stocks mentioned, but may initiate a long position in NSC over the next 72 hours.