The investment environment after the financial and economic crisis has been characterized by a high degree of volatility across asset classes. Taking short-term positions in such an environment can lead to extreme results (positive or negative).
Therefore, in my opinion, retail investors can allocate a significant amount of their portfolio funds towards more long-term investment themes. The objective would be to ignore short-term fluctuations and focus on long-term fundamentals for specific asset classes.
In line with this investment strategy, I have discussed specific attractive long-term themes in the recent past. Some of these include water, farmland, crude oil and natural gas.
In this article, my focus is on the long-term fundamentals for copper. After discussing the fundamentals, which makes me believe that copper is an attractive investment theme; I would also look into specific investment opportunities in the commodity.
Based on my understanding of the fundamentals, copper has the potential to provide significant returns and boost overall portfolio returns for individuals over the long-term.
Why Do We Need Copper?
The application of copper is widespread and encapsulates some of the major industries in any economy. Just to put things into perspective, an average single family home uses about 440 pounds of copper.
The chart below gives a simplified picture of the industries from where copper demand comes.
[Click all images to enlarge]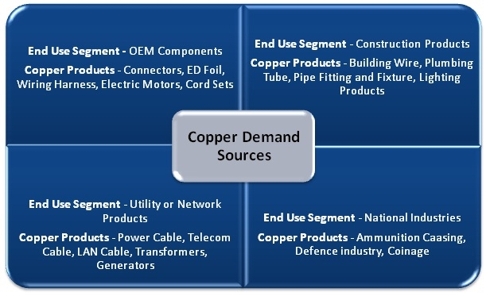 Click to enlarge
Very clearly, some of the most important industries in any economy demand copper for various end products. Very broadly, around 66% of the demand for copper comes from the construction and electrical applications industry.
I would also look at specific regions, which would be the major demand drivers for copper in the next decade and further. However, before that, I would like to investigate the supply scenario for copper and the major challenges on that front.
The Supply Scenario For Copper
Copper is a finite resource with world class copper discoveries being extremely rare. To add to this, structural constraints have led to decline in existing production of copper.
Some of the major challenges in existing production include:
Declining grade of copper and related production pressure
Copper mining projects in extremely difficult regions (Geopolitical issues included)
Geotechnical issues
Capital availability as building major mine projects require long time
As a result of these constraints, more than 14Mt of supply growth over the next six years has been deferred. The chart below gives the supply growth projection for first quarter of 2008 and second quarter of 2010. As evident from the chart, the growth projections have been significantly lowered for the coming years due to the above mentioned challenges.
Meaningful Decline In Copper Supply Projections In 2Q10 Compared To 1Q08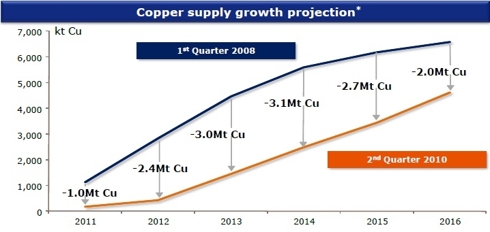 Click to enlarge
Source: Xstrata company presentation, September 2010
To add to this concern, the existing recoverable copper reserves are also limited and major mines might run out of copper when demand becomes robust again (especially in China and India).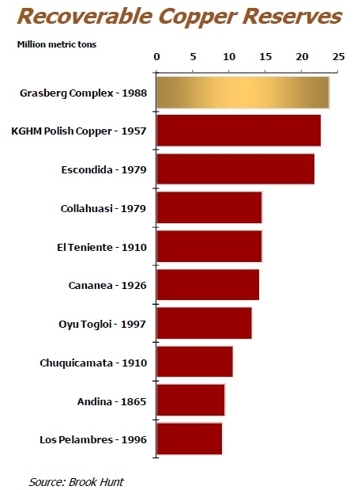 Click to enlarge
Therefore, purely from the supply perspective, the challenges are plenty. Further, as I discuss the demand outlook for long-term, one can say with conviction that supply shortage is very likely once the global economy returns to relatively robust growth.
The Demand Scenario For Copper
The demand outlook for copper is primarily driven by emerging Asia, Europe and Africa. As mentioned above, copper is a necessity in industries such as infrastructure and power. For growth of any economy in the world, it is essential for these industries to outperform. Therefore, in my opinion, copper demand would remain robust led by:
Urbanization in China with over 500 million Chinese expected to move to cities and towns over the next three decades.
Urbanization in India with around 540 million Indians expected to like in urban areas by 2025.
Infrastructure development in Russia (with near-term focus on 2014 Winter Olympic Games). With improved relations with China, the Beijing government alone is expected to invest over USD12 billion in infrastructures over the next 5-10 years.
The Growth Story Has Just Begun For BRICs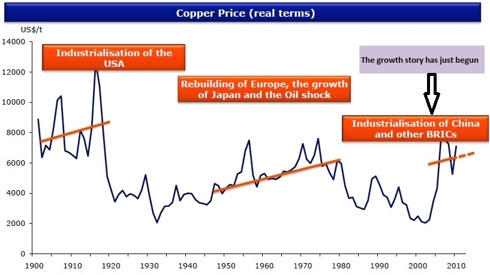 Click to enlarge
Source: Xstrata Copper presentation, April 2011
Impending Upside Growth Potential For China And India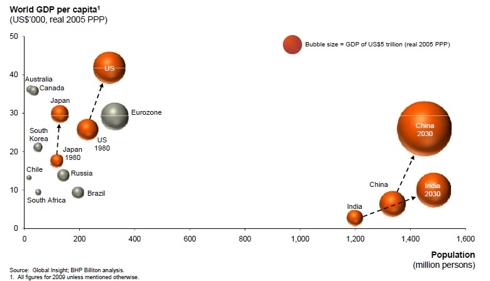 Click to enlarge
Source: Bank of America Merrill Lynch global metals and mining conference, May 2011
Considering just these demand drivers, it is not surprising to note that in order to satisfy the demand, the world needs to mine more copper in the next 25 years than throughout history. The chart below from usfunds.com exhibits the same.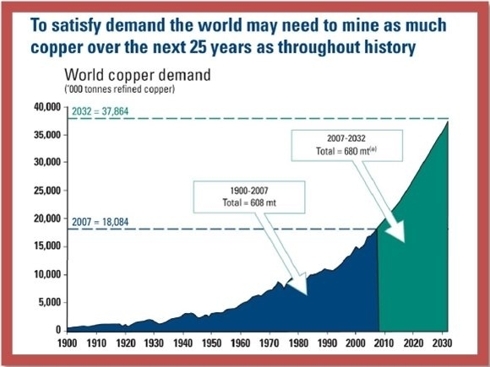 Click to enlarge
Source: usfunds.com
Considering these factors, there is no doubt that demand for copper will remain robust over the long-term. Having analyzed the fundamentals for the commodity, I would like to talk about some specific investment opportunities in copper.
Long-Term Investment Opportunities
In my personal opinion, due to the fact that copper mining is a capital intensive industry, there will be a regular need for cash infusion. A good option is to invest in large corporate involved in the business. In line with this rationale, I would consider the following stocks to be a part of my long-term portfolio:
Freeport-McMoRan Copper & Gold Inc. (NYSE:FCX) – The Company is primarily involved in copper, gold and molybdenum mining. FCX is also the world's largest publicly traded copper company. Among the Company's assets is the Grasberg mining complex in Indonesia, the world's largest copper and gold mine in terms of recoverable reserves. Currently trading at a P/E of 7.23, the stock is an attractive long-term investment opportunity.
BHP Billiton plc (NYSE:BHP) – is another diversified mining company and the third largest copper producer in the world. Besides copper, BHP also engages in the exploration, development, and production of oil and gas; mining of bauxite, refining of bauxite into alumina, and smelting of alumina into aluminum metal; mining of base metals, such as silver, lead, zinc, molybdenum, uranium, and gold; and mining of diamonds and titanium minerals. Currently trading at a P/E of 10.33, BHP also offers investors an attractive long-term investment opportunity.
Xstrata plc (OTC:XSRAF)– is a diversified mining company with copper mining and processing facilities located in Australia, Chile, Peru, Argentina and Canada. XT is the fourth largest copper producer and also one of the largest producers of smelter and refined copper. The current portfolio of projects for XTA includes Las Bambas, Tampakan, El Pachon and Frieda River. Currently trading at a P/E of 9.09, XTA is also an attractive long-term bet.
I would personally consider exposure to one or two of the above mentioned companies in my portfolio. Besides specific stocks, investors can also consider exposure to copper exchange traded funds. Some of the copper ETFs are:
iPath Dow Jones UBS Copper Tota (NYSEARCA:JJC)
First Trust ISE Global Copper Index (NASDAQ:CU)
Global X Copper Miners ETF (NYSEARCA:COPX)
In conclusion, any further correction in industrial commodities rising from global economic weakness (especially China and India) can be used to take exposure in copper for long-term outperformance.
Disclosure: I have no positions in any stocks mentioned, and no plans to initiate any positions within the next 72 hours.