We all know how the US real estate sector is on the verge of a financial wreck with falling home prices, declining home sales, rising mortgage default rates and an overall economic liquidity crunch. The credit extended by the US government doesn't seem to be happening at all.
Needless to say, real estate investment trusts are trying various permutations and combinations in their asset portfolio to cut losses and bring back sufficient returns for the companies and their stakeholders.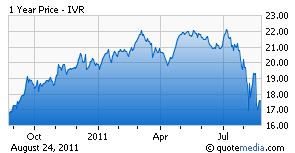 Recently, Invesco Mortgage Capital Inc. (NYSE: IVR) issued a follow-on public offer (FPO) of around 20,000,000 common shares, acquiring gross proceeds up to $367.4mn before underwriting and offering expenses deductions, though with an option of purchasing up to 3,000,000 shares in case of over-allotment.
But, as an investor, is the decision by Invesco Mortgage Capital to issue around 20,000,000 shares of common stock justifiable? In today's housing market, will it be able to justify such a big investment? Let's figure it out.
To start with, Invesco Mortgage Capital invests mainly in mortgage loans and mortgage-backed securities, both commercial and residential. Yes, of course we are seeing some developments in the credit default rates, which recently were reported around 1.25-1.93%, much improved from the 2.02% and 1.40% from June this year.
But that's not enough. Let's dig a bit deeper into the company's financials.
The interest income of the company has gone up appreciably, not to mention that the gain on sale of investments that accounted to around $4,800 Q2 this year. This means the company is reallocating the investments to maximize the returns. Good news for the investors!
Even the rising mortgage-backed securities portfolio has surged over $12bn from just over $5.5bn last year.
The company's average return on assets of 2.66% and operating margin of 68.27% as reported in Q2 this year, is much better than most other mortgage REITs, primarily Anworth Mortgage Asset Corporation (NYSE:ANH), New York Mortgage Trust (NASDAQ:NYMT) and PennyMac Mortgage Investment Trust (NYSE:PMT).
The only thing to be mindful of is the increasing accrued interest payable section in the balance sheet. Does it mean that they are allowing a lot of credit on the interest front? Is it really viable in this unstable US housing market?
Another question that strikes me is why the stock price dropped by around 15% over the last four weeks. Though it can be taken as an alarming call from investors worldwide, my analysis says you can 'hold' the stock for some time.
The recent company performance in comparison to the average industry performance has been trustworthy and inspiring, and the decision to raise funds through an FPO is expected to help the company drive through in this tough market.
My suggestion is, we can at least stay hopeful of Invesco Mortgage Capital for the time being.
Disclosure: I have no positions in any stocks mentioned, and no plans to initiate any positions within the next 72 hours.