Hurricane Irene has been upgraded to category 3 with winds of more than 115 mph. Meteorologist from Fox News Janice Dean believes it is possible that Irene reaches category 4 strength by the time it hits land. She added that Irene, depending on its impact, could affect as many as 80 million people in cities such as New York, Boston and Washington D.C. Current projections show Cape Hatteras and both Carolinas getting hit with the hurricane at full strength.
There is never a good time for natural disasters to occur as millions of people are affected. At this point in our fragile economy I do not believe this event could have come at a worse time. We will hope for the best but prepare for the worst as millions brace themselves for this powerful storm.
There are several economic industries that are affected by destructive hurricanes. In 2005 when Hurricane Katrina hit New Orleans it completely decimated the city with more than 80% being underwater within two days of the initial impact. Almost all companies that relied on New Orleans, or the surrounding area, experienced complications with several going bankrupt. Among these affected the financial, manufacturing and electrical companies suffered the most in comparison to other industries. To read more about the stocks and industries affected by hurricane Katrina, click here.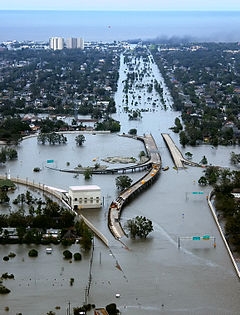 Hurricane Katrina was catastrophic and affected the entire economy and while Hurricane Irene's effect is unknown it presents the possibility to provide similar levels of damage. Fox New suggests that Hurricane Irene could affect more that 80 million people along the coast. It is estimated that hurricane Katrina affected 15 million people either directly or through gas prices, evacuations, economy, or even drinking water. With the potential for massive destruction the economy must brace itself for what could happen.
The following sections will outline and briefly discuss the industries and companies that could be heavily affected by hurricane Irene. These will include large companies in manufacturing and utilities which were affected by hurricane Katrina. North Carolina and South Carolina will be discussed as the states have the greatest potential for experiencing the hurricane at full strength.
South Carolina
South Carolina is expected to experience the full strength of this storm, throughout most of the state. South Carolina is an agriculture based state with concentrations in tobacco, poultry, dairy products and soy beans among others. The state produces a high level of industrial products which include: textile goods, chemical products, paper products, machinery, with various manufacturing plants as well.
Possibly affected companies include:
Domtar Corporations (NYSE:UFS), one of the largest integrated producers of uncoated freesheet paper in North America. The company has an operation center located in Fort Mill South Carolina that controls distribution plants throughout North America. This location is in the northwestern corner of the state therefore it may not be affected as if it were closer to the ocean. However, the area will experience effects from the hurricane and if it progresses to a category 4 it could cause damages to the building which could affect distribution.
AbitibiBowater (ABH) is a global forest products company. The company has several areas of business which include a fairly large plant in Catawba, SC located in the northeastern section of the state. This company will probably get hit fairly hard which could affect the company's stock since this plant makes a large portion of paper sold by the company. A damaged facility or flooded roads could slow production significantly and affect a stock that is already trading near 52 week lows.
SCANA Corporation (NYSE:SCG) is an electric utilities company that serves much of the state with headquarters in Columbia, SC. If history repeats itself a category 3 hurricane should bring lots of power outages with several fallen power lines. If the hurricane becomes stronger it could result in a more serious situation for the electric company affecting costs and revenue. With most large hurricanes electric companies are affected among the most because of its destruction with the electrical system.
The Boeing Company (NYSE:BA) is now ready to begin manufacturing its 787 in the new $750 million plant, located in Charleston, SC. This new and expensive plant could not be positioned worse for the path of this storm. At $750 million I am sure the building is sturdy and meant to withstand the harshest of elements. But then again look at the Louisiana Superdome and what happened to it with Katrina. I am sure this plant will be fine but it would be a blow to the stock if this long awaited plant was to experience significant damage with high costs that stalled production.
North Carolina
North Carolina is expected to see the same effects of the storm as South Carolina. Based on the chart above, latest path of Irene, most of the state is expected to experience the effects from the hurricane. North Carolina has various markets within its economy that include: tobacco, finance, manufacturing and agriculture.
Possibly affected companies include:
Lowe's Companies (NYSE:LOW) corporate office is located in North Carolina which controls most of the communication between stores. The corporate office is not what concerns me about Lowe's it is the amount of stores the company has in North and South Carolina. The company has 49 stores in South Carolina and 113 stores in North Carolina. Most of these locations are traditional Lowes stores but there are several that consist of manufacturing and corporate affairs. Significant destruction throughout the states could damage many of these stores and with 162 stores the damage could cause issues with revenue, income and costs.
Nucor Corporation (NYSE:NUE) is located in Charlotte, NC. The company is one of the largest steel producers in the United States but recycles various materials such as iron and scrap metal. The company has 9 locations, with most in South Carolina, along the east coast. I doubt this company will be heavily affected because it is hard to predict the reaction. If there is significant damages will the company experience strong business or a lack of business? Either way the company has several locations that will be affected in some way, investors will have to watch and listen for updates from the company over the next several weeks.
Duke Energy (NYSE:DUK) and Progress Energy (PGN) are both located in North Carolina. Progress covers a large area located near the coast while Duke has a larger overall clientele base. The effects a natural disaster could have on electric utilities have been discussed. I believe that both companies are well positioned to handle minor issues but heavy damage could cause financial problems for both companies resulting in less income and revenue along with higher costs.
Reynolds American (NYSE:RAI) and Lorillard (NYSE:LO) are both located in North Carolina. Both North and South Carolina are leaders in tobacco production throughout the country. Both states rely on this production for financial health. I fear that flooding could affect the agriculture or even slow tobacco production but will not have an immediate effect. Along with electric utilities agriculture is an industry that investors should watch closely as the fear could push stocks lower.
There is a possibility that hurricane Irene will miss both states and drop to a category 2 causing less damage. At this point it is unknown what will occur or how the market will react. Our economy is fragile and if Irene brings destruction it could have a lingering effect on our markets. Investors should watch as conditions develop to better understand how this could affect other stocks. I only mentioned 10 companies but there are 100s that could be affected if Irene proves to be disastrous or if it moves away from this area and concentrates on the heavily populated area of New England. The direction is changing at a constant rate so it is important that investors know where the storm will hit and what stocks could potentially be affected.
Disclosure: I have no positions in any stocks mentioned and no plans to initiate any positions within the next 72 hours.