DSW Inc. (NYSE:DSW) is due to report earnings before the opening bell on Tuesday, August 30.
Overview
DSW, together with its subsidiaries, operates as a footwear specialty retailer in the United States. It offers dress, casual, and athletic footwear for women and men, as well as accessories, handbags, and hosiery. The company was founded in 1969 and is based in Columbus, Ohio. DSW, Inc. formerly operated as a subsidiary of Retail Ventures, Inc. (NYSE:RVI).
52 Week High: $55.90
52 Week Low: $22.65
Book Value: $15.45
Float Short: 9.43%
On average, analysts are expecting a drop of $-0.25 in earnings per share compared to last quarter's results of $0.87. The reporting quarter's estimated mean earnings are $0.62 per share. Analyst estimates range between $0.57 and $0.66 per share.
The current trailing twelve months (ttm) P/E ratio is 16. The forward P/E ratio is 15.2.
Looking at the price movement over the last month, the stock has fallen in price -23.46 %, with a one year change of 63.68%.
Comparing to the S&P 500 price changes, the price performances are -12.30% vs. the S&P 500 from a month ago, and year to date difference is 14.37% vs. the S&P 500 price change.
For the same fiscal period year-over-year, revenue has improved to $1.82 billion for 2011 vs. $1.60 billion for 2010. The bottom line has rising earnings year-over-year of $107.62 million for 2011 vs. $54.74 million for 2010. The company's earnings before income and taxes are rising with an EBIT year-over-year of $173.58 million for 2011 vs. $93.46 million for 2010.
The recent price action has been difficult for current investors. It appears that it is not about to get better in a meaningful way soon. On the monthly chart the price has broken down through the trendline as is now pointing lower. On the daily chart, the price recently broke down through the 200 day moving average which is bearish.
Yesterday it came close to touching the average, but that is very common for stocks that break down through. The average is now turning into resistance and may be a challenge in the near term. Management blew the doors off the estimates last quarter, so if they can deliver again it could be a very long day for the shorts.
DSW is planning on paying a fat dividend for investors at the end of September. The company is paying out $2.15 a share. The dividend will likely have a big impact on price action leading up to and after it goes ex-dividend.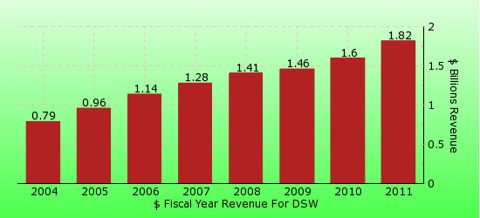 Click to enlarge
Gross reported revenue compared to the mean estimate (rounded).
| Fiscal Quarter Ending Month-Year | Revenue Estimates | Actual | $ Difference | Difference % |
| --- | --- | --- | --- | --- |
| Apr-11 | $ 486.54 M | $ 503.59 M | $ 17.05 M | 3.5% |
| Jan-11 | $ 450.30 M | $ 468.45 M | $ 18.15 M | 4.03% |
| Oct-10 | $ 473.20 M | $ 489.27 M | $ 16.07 M | 3.4% |
| Jul-10 | $ 415.20 M | $ 415.12 M | $ -0.08 M | -0.02% |
| Apr-10 | $ 439.88 M | $ 449.54 M | $ 9.66 M | 2.2% |
M = millions, B = billions
Differences are rounded. (Some onetime items are often excluded in reported EPS)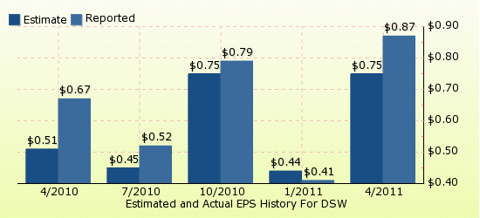 Click to enlarge
Reported earnings per share compared to the mean estimate. Differences are rounded.

Click to enlarge

Click to enlarge
I use a proprietary blend of technical analysis, financial crowd behavior, and fundamentals in my short-term trades, and while not totally the same in longer swing trades to investments, the concepts used are similar. You may want to use this article as a starting point of your own research with your financial planner.
I use Seeking Alpha, Edgar Online, Google Finance, MSN Money, CNBC, Zacks and Yahoo Finance for most of my data. I use the "confirmed" symbols from earnings.com that I believe to be of the most interest.
Disclosure: I have no positions in any stocks mentioned, and no plans to initiate any positions within the next 72 hours.