Seeking Alpha contributor Alan Brochstein recently put out a very interesting piece on Halliburton's (NYSE:HAL) new "fracking" fluid called CleanStim. The fluid is reportedly made with ingredients used to process food and nutritional products.
If this is the case, then as Mr. Brochstein points out, environmental concerns over safety to water supplies might potentially be mitigated significantly ... not to mention reducing costs of extraction.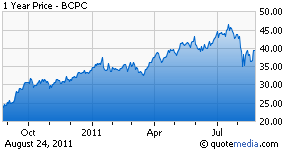 The rationale here is simple. If Balchem (NASDAQ:BCPC) or any other company is providing choline as an input variable, then margins on BCPC and/or its peers stand to benefit greatly should oil and gas shale development either embrace this voluntarily or via mandate.
In this discussion we will focus on the financial statements of specialty chemical maker Balchem, whom Mr. Brochstein also believes may be a supplier of choline used in HAL's fracturing fluid formulation. Our BCPC analysis will examine the seven quarters through June 30, 2011. You can view the full report here.(pdf)
Sales growth has averaged 4.0% during the previous seven periods on EPS growth of 5.1% during the similar period. This small-cap company has only $4.5 million in debt, over $3 a share in cash and generates about $28 million a year in cash-flow.
Our dual cash-flow and accrual model also indicates BCPC is undervalued by -11.20% to our estimated fair-value of $44.30 a share. Other positives include:
Wide spreads between operating generated cash-flow and balance sheet produced cash-flows. We also note improving OCF as a percent of sales in each of the past six quarters.
Bullish dual cash flow trend since Q4 2010.
Moderating accrual trend since Q2 2010.
Declining goodwill levels as a % of total assets and equity.
The balance sheet is sound with the only discernible knock being a modest bump in days-sales-outstanding in the latest period to 46.9 days. Avg. DSO for the seven periods is 44.6 days.
Capital productivity and revenue metrics also came in a bit weak in the recent June quarter, offset by improvements in accounts payable as a % of sales and capacity utilization expense (per dollar of sales).
Absent any exposure to the energy markets, the company has strong market share in food, nutritional, feed, pharmaceutical, medical sterilization and specialty chemical industries.
Given the extreme market volatility in recent weeks, particularly in the small-cap arena, we rate BCPC a speculative BUY with a near-term target of $44. Traders may find opportunities in the $36-39 area and value investors with a longer horizon might consider waiting for a pull-back to the $35 area to initiate positions.
Disclosure: I have no positions in any stocks mentioned, but may initiate a long position in BCPC over the next 72 hours. Sources: merriamreport.com, YAHOO Finance, Reuters