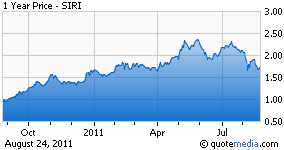 Sirius XM Radio (NASDAQ:SIRI) is one of the stock market's most talked about stocks. By now, the bull and bear cases are well discussed. But there is one factor that is rarely discussed, and that's the satellite radio's massive value as an original content provider and distribution channel. The company has a dominant position in its market and this creates a solid floor to the company's valuation.
There is a psychic value to owning content and distribution channels. This is a statement of fact that transcends pure fundamentals. There are numerous examples of this in the business world. You see this time and again. Rupert Murdoch's News Corp (NASDAQ:NWSA) purchased Wall Street Journal's parent company for $60 per share, or a 67% premium to the last pre-announcement closing price despite the unfavorable industry trends and more recently Mexican billionaire Carlos Slim acquired additional shares of NY Times (NYSE:NYT). In addition John Malone's investment in Sirius at the height of the financial crisis is commonly viewed as a pure financial decision, but he may have also been partially motivated by the of owning a unique media asset.
These media assets are prime properties, but the interest from these successful business people is especially notable because of the brutal trends in the newspaper industry. While there is a fundamental bullish thesis, especially considering NYT's current cheap valuations (forward P/E of 9.55, price/sales of 0.44 and EV/EBITDA of 4.61), there is more to the story. Content providers like New York Times and Wall Street Journal have other benefits to the owners that are less quantifiable than simple earnings power. Content providers and distribution channels are a source of influence and power. While the SIRI story is much different from the political and business clout of the Wall Street Journal and NY Times, they have the potential to exert their own influence in a different cultural sphere through the continued developed of proprietary channels like Shade 45 and Howard Stern 100. Why this may seem like common sense for a radio/music company, it's important to remember that commonly cited competitors like Pandora Media (NYSE:P) do not have this ability. While they have created their own successes, they do not carry the same intrinsic media valuation that we see in NY Times and Wall Street Journal.
SUMMARY
We continue to view Sirius XM as an intriguing investment opportunity. While the valuations are rich based on trailing performance, the company appears to be growing into its potential. Trailing P/E was 42.32 but the forward P/E is expected to be 21.69 and the PEG ratio is 0.90. The company does suffer from a heavy debt load, but revenues remain strong and we are still cautiously optimistic about the company's ability to raise subscription prices in the upcoming year. With this in mind, we think the stock has upside potential and some downside protection because of the company's inherent value as a unique content provider and distributor.
Disclosure: I have no positions in any stocks mentioned, but may initiate a long position in SIRI, NYT over the next 72 hours.