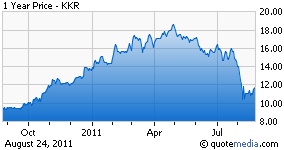 When we get these short bursts of intense pain in the equity markets, there are always sectors that take it much worse than others. I knew that over the past three months and accelerating into this past month the energy sector had been ugly (I have a significant negative change in net worth to prove it). But I was a little surprised to see how badly the publicly traded private equity boys had made out over this time frame.
Consider the stock prices of the following over a one month period:
KKR & Co (NYSE:KKR)
Stock price July 22 - $16.09
Stock price Aug 22 - $10.96
Percentage decrease in one month – 31%
Percentage rise needed to get back to Jul 22 price – 47%
The Blackstone Group (NYSE:BX)
Stock price July 22 - $17.63
Stock price Aug 22 - $11.53
Percentage decrease in one month – 35%
Percentage rise needed to get back to Jul 22 price – 53%
Fortress Investment Group (NYSE:FIG)
Stock price July 22 - $4.69
Stock price Aug 22 - $3.14
Percentage decrease in one month – 33%
Percentage rise needed to get back to Jul 22 price – 49%
Fifty percent upside in each of them just to get trading where they were one month ago. That is a pretty big haircut. Or perhaps a pretty big opportunity.
Now I realize that I am a bit of a simpleton, but two major things have occurred over the past month. One is that we have found out that the Fed is going to keep interest rates at basically zero through 2013. The second is that equity valuations have had a pretty sharp drop.
Shouldn't an extended world of zero interest rates and lowered equity valuations actually be good news for companies that have significant exposure to the Private Equity business? Leverage being used remains at low rates and companies being acquired are at lower multiples of cash flow. There may be a delay in taking existing investments public, but that seems like a good trade for an extended period of low borrowing costs.
KKR – Understanding The Business
I thought when KKR and Blackstone became public they would be much more warmly received by investors. I suppose timing is everything though and the last few years have been ugly all around.
What investors might not fully realize is that a name like KKR isn't simply private equity these days. The company has a few different components:
Private Markets – Which has $46 billion under management and includes the traditional private equity business and a new global energy and infrastructure business.

Public Markets – Which has $15 billion under management and is a credit investing business focused on a variety of credit strategies.

Capital Markets – Which deals with investing KKR's own $6 billion of capital and partnering with outside investors on deals which generates fee income.
The Private Markets business and Capital Markets segment drive the boat. As they should. As detailed in the most recent annual report from inception in 1976 through December 31, 2010 KKR's investment funds which has at least 36 months of life had generated a cumulative gross IRR of 25.8% (net of 20%).
How many other entities can boast a 35 year track record of compounding money at 25%? They have a model that works and that track record combined with their operating size opens a lot of doors.
A Fee Generating Business Attached to a Private Equity Portfolio
I'm very attracted to hitching my wagon to a team that has generated these kinds of returns in the past provided the price is right on the stock. And after a review of the financials, determining what an attractive price might be easier said than done.
The publicly traded version of KKR that we see today was formed when KKR Private Equity Investors merged with 30% of KKR Group Holdings which is the Private Equity manager run by Kravis and Roberts that we are all so familiar with.
KKR Private Equity Investors was a public entity that had been formed to invest alongside the KKR private equity funds on various deals and directly in the KKR private equity funds as well. As a result of the merger the new KKR inherited the investment portfolio of KKR Private Equity investors.
The result is a company that owns investments directly in companies that KKR Private Equity funds have purchased, owns investments in KKR Private Equity funds themselves and receives fees for managing KKR Private Equity funds.
So unlike your typical asset manager which basically derives its value from management and performance fees earned from funds that it manages. KKR both has a management fee income stream and its own large investment portfolio.
For an investor to value KKR then, I think the logical approach is to value these two parts separately.
Value of KKR's Net Assets
At June 30, 2011 the balance sheet of KKR looked like this:
| | |
| --- | --- |
| Cash and equivalents | $952,492 |
| Investments | $5,181,945 |
| Unrealized carry | $680,025 |
| Other Assets | $261,199 |
| | |
| Total Assets | $7,075,661 |
| Debt Obligations | $500,000 |
| Other liabilities | $254,547 |
| | |
| Total Liabilities | $754,547 |
| Non-controlling Interests | $16,077 |
| Partners Capital | $6,305,037 |
| Book value per share | $9.22 |
What pops out to me immediately is that the net asset value of $9.22 per share is not that far below the current share price that has been in the $11 to $12 range.
That would imply that you get the asset management business and anything else KKR does to generate fees for a couple of bucks per share, which would be a couple of bucks per share. The key of course is first getting comfortable that the $5 billion investment portfolio is really worth $5 billion. That portfolio which is detailed here on page 16 is basically half invested directly into private equity deals that KKR's funds have entered and half in those funds themselves.
Given that KKR has compounded money at 25% plus per year for 35 years I'd be inclined to think that using book value is a fair proxy for what those assets are worth and think that over time they would appreciate in value.
Value of KKR's Fee Generation Business
Above I've established that I think at today's stock price an investor is paying a couple of bucks for the 30% interest in KKR's asset management business that KKR owns. So the question is, how good of a deal is this?
This gets a little tricky, as we have only one full year of financials to work off of. For the year ended 2010 the net earnings from the fee related business was as follows:
| | |
| --- | --- |
| Management/Incentive Fees | $492,118 |
| Monitoring/Transaction Fees | $242,416 |
| | |
| Total Fees | $734,534 |
| Total Expenses | $416,212 |
| Total Fee Related Earnings | $318,322 |
To make things simple I'll assume that the fee generation segment is worth 10x earnings which would be about $3.1 billion. That would be about $4.65 per share. 2011 is trending a little higher than that, but I'll stick with the 2010 number to be conservative.
Put The Two Parts Together
If I take the net asset value above which is $9.22 per share and add it to this rough valuation of $4.65 for the fee business that equals $13.87 in total. That is well in excess of the current share price and given that I've assigned a 10 multiple to an earnings stream that KKR plans to grow pretty rapidly (and has in the past grown rapidly) I may well have been overly conservative. A 10 multiple is generally what I would assign to an average business, and I think most people would agree that this is not an average business.
And I can't forget that over time the Net Asset Value of the private equity holdings themselves will also grow. Remember KKR's historic returns have been over 25% per annum.
At this point I'd say that the current share price is close to an attractive entry point. With some additional study to get more comfortable that I understand the business I would consider starting a position. One thing I do feel pretty comfortable with is that over time this is an investment that would work out reasonably well from today's price. Of course, I'm looking to do unreasonably well.
Disclosure: I have no positions in any stocks mentioned, and no plans to initiate any positions within the next 72 hours.