Diageo plc (NYSE:DEO) engages in producing, distilling, brewing, bottling, packaging, distributing, developing, and marketing spirits, beer, and wine products. The company offers a range of brands, including Johnnie Walker scotch whiskies, Smirnoff vodka, Baileys Original Irish Cream liqueur, Captain Morgan rum, Jose Cuervo tequila, J&B scotch whisky, Tanqueray gin, and Guinness stout, as well as Smirnoff ready to drink products. Its other spirits brands comprise Crown Royal Canadian whisky, Buchanan's scotch whisky, Ketel One vodka, Windsor Premier scotch whisky, Gordon's gin and vodka, Old Parr scotch whisky, Seagram's 7 Crown whiskey, Seagram's VO whisky, Cacique rum, Bundaberg rum, and Bell's scotch whisky.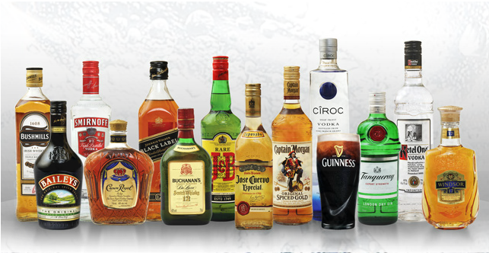 The liquor business is a fantastic area to invest in. When times are good, liquor becomes a celebratory item. When times are bad, we use liquor as a way to deal with life. Either way, it's a win-win situation. I believe Diageo is a great play in this market. The company is a cash flow king. The brands are very powerful. The company currently pays a 2.7% dividend and has a forward P/E of 13.
At a P/E of 13, the company trades at an average valuation. However, keep in mind that you are paying up on a company like this for several reasons. For one, the company is basically a blue-chip that has been around for more than a 100 years. The company's tequila segment has a large market share because of the Jose Cuervo line. The nice thing with Diageo is that it focuses both on beer and hard liquor, giving it some nice diversity.
The company has very few competitors that can truly rival it. Anheuser-Busch (NYSE:BUD) has a very similar valuation with a smaller dividend. However, Anheuser doesn't have a liquor division. Molson Coors (NYSE:TAP) is a little cheaper with a forward P/E around 11 and a higher dividend of 3%.
I believe these two companies are great buys as well. However, neither have a liquor division, which makes Diageo another plus as an investment. All of these companies have strong cash flow and reward shareholders with dividends. Diageo is still my favorite as it has a focus on both liquor and beer. The company retains significant market share in many of its divisions.
Disclosure: I have no positions in any stocks mentioned, and no plans to initiate any positions within the next 72 hours.