After riding towards the moon for quite some time, gold, silver, and U.S. Treasuries are falling back to earth — falling, not fell down to earth. This means that they do have a great deal of traveling to do before they reach earth; and that means quite a deal of losses for those who have been on the wrong side of the trade — by early afternoon, iShares Silver Trust (SLV) was down near 5 percent, while SPDR Gold Shares (GLD) was down 3.5 percent, and iShares Barclays 20+ Year Treasury bond fund (NYSEARCA:TLT) was down 2.20 percent, while SPDR S&P 500 (NYSEARCA:SPY) were slightly higher. Does it mean that the precious metals rally is over? Should investors avoid precious metals altogether, or even go short?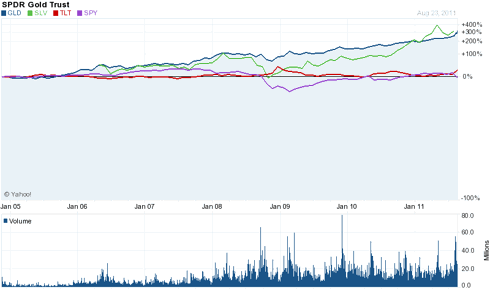 Click to enlarge
(Click to enlarge)
As we wrote in a previous investors should avoid buying precious metals and U.S. Treasuries, as a fast run-up and weak fundamentals make this sort of trade exceptionally risky. But aggressive investors may want to short gold and silver, as they both are sensitive to a strengthening dollar, a change in monetary policy, and a weakening global economy — though we must admit that we were too early on the short side. What now?
Though all three asset categories may be on a trading range in the short-run, we still believe that in the long-term are very risky investments, with the risk being on the long side.
Here is why:
Gold and Silver. Both metals have been the investment of choice for investors who see all kinds of contradictory economic calamities hitting the world economy, from hyperinflation to hyper deflation, to the collapse of the dollar. Deflation; but deflation is about declining commodity prices isn't gold a commodity. Should we remind investors what happen to gold prices in the 1990s when the Japanese economy slid to deflation; and political calamities, the collapse of financial institutions and sovereign nations. Do all these sound rational?
U.S. Treasuries. U.S. Treasuries have also been the investment of choice irrespectively of the state of the economy, for all sorts of reasons: Some are buying US Treasuries a refuge from the European turmoil, while others because they cannot find anything else to buy. Never mind that S&P downgraded US Treasuries and Moody's has them on its watching list. The Fed is ready to always been on the other side of every sell trade. Does it sound rational?
The bottom line: Bubbles can blow as long as a large crowd can chase after an asset with emotions rather than with fundamentals, but they all burst when reason prevails over emotion. Conservative investors should stay away from all three trades. Aggressive investors may consider building positions on the short side.
Disclosure: I am short GLD, SLV, TLT.