On August 16th I posted an article about gold, more or less discussing how it was in a bubble. Here is an excerpt of what I said:
Needless to say, it's the gold bugs who have proven right all these years, even with their sometimes ridiculous investment theories. But, for today, I will remain an optimist and bet on the world not ending. Gold is in a bubble. Be careful with it, one of these days it just might pop.
I'm not claiming victory yet, but gold has absolutely taken a beating the last few days. The spot price was down 4.31% yesterday alone and is down to $1,754 from a high of over $1,900 just two trading days ago. We may see some support from the top of the uptrend channel in the $1,700 area. As you can see in the chart (click to enlarge image), gold moved into bubble mode when it broke out of the top of the uptrend channel and went parabolic.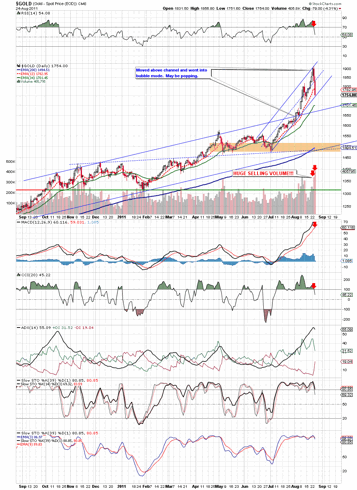 The last two days have seen extreme selling volume and I can see this move continuing steadily lower into the $1,500 area before any real support comes into play. One thing to remember is that at the top of bubbles is when the weakest money is buying. When these late buyers start seeing red in their accounts they're going to run for the hills ASAP and exacerbate the crash.
I'm not saying the gold bubble is over, but the asset has too much risk for my liking and I believe volatility will remain elevated for the remainder of the year. It would be smart to remain weary of gold until it goes through a healthy consolidation.
Disclosure: I have no positions in any stocks mentioned, and no plans to initiate any positions within the next 72 hours.