Medtronic (NYSE:MDT) reported fiscal first quarter earnings on Tuesday morning, matching Street estimates on earnings (down 1% per share) with slight revenue growth (2% in constant currency). Investors cheered, driving the stock up 6% and following up with a 3.3% bump on Wednesday.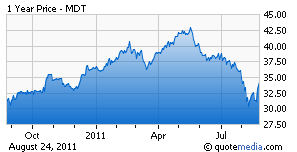 The company reiterated full year guidance for fiscal year 2012 (ending in April 2012) of $3.43-$3.50, giving the company a forward P/E at or below 10, based on Wednesday's close of $34.21. In the company's post-earnings conference call, CFO Gary Ellis added guidance of $4 billion in free cash flow, about 11% of the company's market capitalization.
The good news was needed for Medtronic, whose stock fell 30% from a 52-week high in late May to a 52-week low earlier this month. Disappointing fourth quarter earnings in May started the slide; it continued when, in late June, The Spine Journal publicly criticized the company's Infuse product, used to stimulate bone growth. The Journal accused researchers of bias in evaluating the product's side effects, and questioned the overall safety of Infuse. Fears of narrowing hospital budgets and federal reimbursement cuts from the debt ceiling agreement have additionally weighed on the stock, and the health care supplier sector as a whole.
The investor reaction to MDT's earnings report seems to be borne more of relief than excitement; indeed, from a company-wide standpoint, there was little new news in the earnings report. Spinal products and defibrillators, which account for 40% of revenue, fell 6% from the prior quarter, confirming fears about tightened hospital spending. Overall growth was light, as noted previously, and the company simply reiterated its previous response to the Infuse crisis: an outside review led by researchers at Yale, and full release of all trial data related to the product.
There was one new aspect to the conference call, however: new CEO Omar Mishrak, who took over in June after being hired away from GE Healthcare Systems. Mishrak, while optimistic about the company's prospects, was uncharacteristically blunt (by CEO standards) on the company's past execution. Mishrak noted that company R&D spending -- currently guided for nearly 10% of sales -- had in the past provided "frankly, unsatisfactory returns". In addition, the new CEO alluded to weakness in the company's previous acquisition strategy, promising that "I'm going to be a lot more strict" about future targets.
Mishrak outlined a three-pronged approach for boosting Medtronic's earnings: execution, innovation, and globalization. The company will improve efficiency in existing product lines, optimize R&D spending for new lines, and expand its presence in international, and in particular, emerging markets.
It is the latter of the three that provide the most immediate hope for MDT investors. International sales grew 7% (in constant currency) in the quarter, and now account for 46% of all Medtronic revenue. That growth was almost solely provided by emerging markets, whose sales grew 25% in the quarter, and were responsible for just over 10% of total revenue. While operating efficiencies and increased R&D success would be nice, they are touted by nearly every CEO across every industry, and those plans fail as often as they succeed, if not more so. (And even the successful initiatives take time to improve the bottom line.) But, given the unquestioned constraints in the US markets, international expansion is Medtronic's only path to short-term growth.
In the meantime, Medtronic seems fairly valued. As noted, its earnings and free cash flow figures are solid, both around 10-11% of market capitalization. The company's balance sheet is likewise strong, with less than a billion dollars of net debt (counting $6-plus billion in long-term investments). The dividend yield appears safe, as the payout ratio on a cash flow basis is around 25%, with an additional 25% earmarked for buybacks this year, according to the previous quarter's conference call.
Patient investors can collect nearly three percent in income, while awaiting the results of new CEO Mishrak's strategies. Should his streamlining and growth initiatives struggle, it appears that much of the downside is priced in. But should Medtronic improve margins and continue its growth into emerging markets, there looks to be a good deal of upside for the stock.
Disclosure: I have no positions in any stocks mentioned, and no plans to initiate any positions within the next 72 hours.