My success at calling tops in the gold and silver markets is well documented. Those not familiar with my work may want to start out by reading the following: ·

The Arora Report Blog
Gold: What To Do Now
Gold And Silver: What To Do Now Redux
Silver Demand Theory Debunked
Debt Ceiling Agreement: Short Selling Silver Again
The chart on the gold illustrates the call.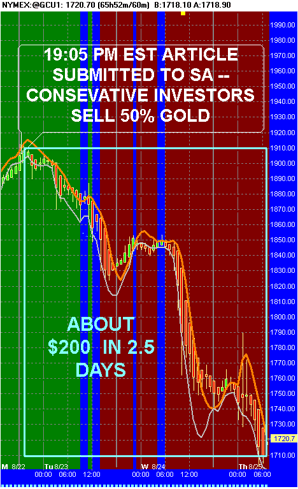 The charts on the silver also illustrates the call.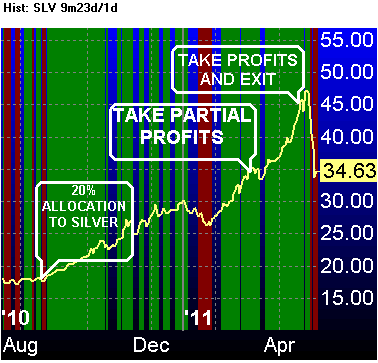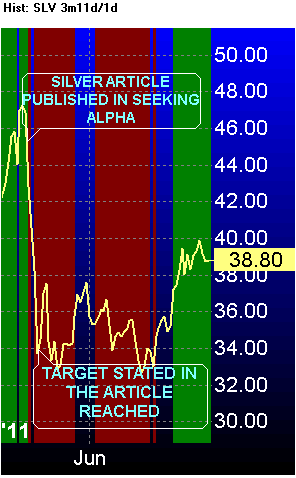 My long time readers know that I use the ZYX Change Method. The markets are complex and in our research, simple methods do not work under all market conditions.
Einstein said, "Make it as simple as possible but not any simpler."
We have followed Einstein in making the ZYX Change Method as simple as possible but no simpler than it needs to be. It still takes time to learn the method. However, there is a simple tool that we have incorporated in the method that every investor should consider using.
The tool is the CBOE Gold ETF Volatility Index (GVZ). GVZ measures the market's expectation of 30-day volatility of gold prices by applying the VIX methodology to options on SPDR Gold Shares (NYSEARCA:GLD). Like other VIX benchmarks, GVZ uses options spanning a wide range of strike prices.
A similar tool on silver, iShares Silver Trust ETF (NYSEARCA:SLV), is not readily available, but it is easy to calculate.
The chart shows recent action of GVZ. When GVZ spikes in the red zone it is time to short sell. When GVZ is in the green zone it is time to buy.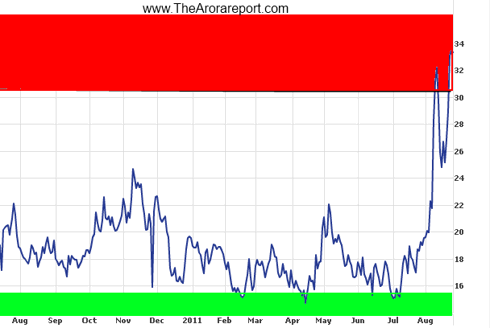 Some investors attribute the recent decline of gold prices to an increase in exchange margins. Is there a good way to predict increases in margin requirements? The answer is an unqualified "yes." Simply look for volatility to increase beyond what was used in setting the previous exchange margins and you have an early prediction.
For guidance on where gold and silver prices may be headed in the short-term, please read Gold: What To Do Now. For updates please read my blog.
Disclosure: I have no positions in any stocks mentioned, and no plans to initiate any positions within the next 72 hours.
Additional disclosure: I have no position in gold, but am inclined to buy gold when risk reward is favorable. At such time I will also provide a signal to my subscribers in real-time. I have sold short silver futures. Please see this position in the context of ZYX Change Method Trade Management Guidelines. On debt ceiling agreement I had sold short SLV at $40.02 and $40.78. That SLV position was closed at $37.82 on August 4, 2011.