Warren Buffett's (NYSE:BRK.A) $5 billion investment in Bank Of America (NYSE:BAC) is showing investors his confidence in the industry. The investment is very similar to the investment in Goldman Sachs (NYSE:GS) during the financial crisis. Buffett will receive preferred stock with an annual dividend of 6%. The securities are callable any time with a 5% premium. Buffett will also receive Bank Of America (BAC) warrants to buy 700 million shares with a 10-year expiration. The warrants have a strike price around $7.14.
Buffett is getting an amazing deal from Bank Of America. This deal however is not available to the rest of the market. The bulls are equating Buffett's buy as a vote of confidence in the common stock. That is not the case. Yes, he does have 700 million shares in warrants, but he is also earning a 6% annual dividend on his preferreds. Buffett is getting paid to wait this out, and in the long run will work out well for him. I don't think it will play out as well for common shareholders in the short term. If you wait to go long once we get a better economic outlook, you could get a much better price to start a long-term buy position.
See how Buffett's investment in Goldman Sachs played out during the financial crisis: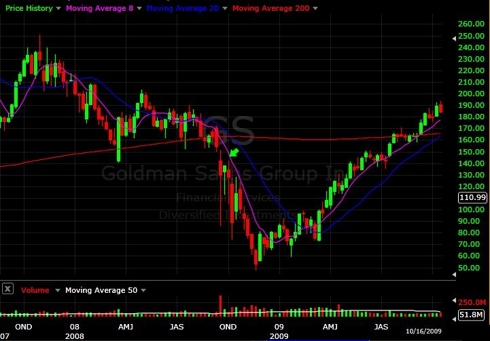 Click to enlarge
Buffett announced his investment in September 2008. Goldman was trading around $137 at the time. Goldman Sachs still fell 65% to a low of $47.41 after Buffett's investment. I don't see the same type of dramatic selloff in BAC, but I still see more downside.
The investment will help shore up Bank of America's capital problems, but I don't see how it could help their earnings problem. The large gap up today on the news has a lot to do with catching shorts off-guard. This is your typical short-squeeze situation that caught many of the short-term traders off-guard.
Check out the weekly chart of BAC: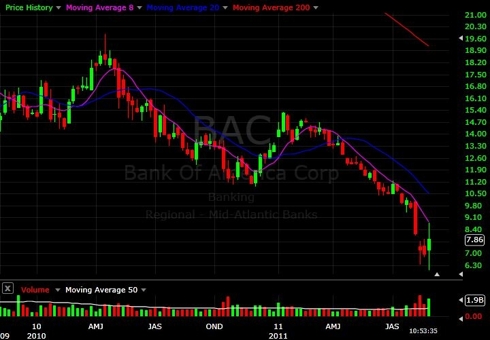 Click to enlarge
Any relief rally in Bank Of America (BAC) that stays below $10 is still bearish for me. The Buffett news could move spark a little buying, but I view it more as a dead-cat bounce after a heavy sell off. BAC's financials are still in a clear downtrend, which has more to do with the bank's ability to earn money than its capital situation. The current economic environment is very difficult for banks to earn money.
Disclosure: I have no positions in any stocks mentioned, and no plans to initiate any positions within the next 72 hours.