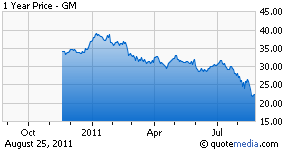 General Motors (NYSE:GM) shares were down about 3% in the second quarter, but have tumbled another 27% since the end of the quarter. The overall markets are down, yes, but the threat of an economic slowdown has crushed many cyclical stocks. GM is now trading near 52 week lows despite U.S. auto sales being in a trough position. Typically multiples contract for automakers when they are at peak sales. Clearly the market is confused about where we are in the business cycle. I don't believe in any way that U.S. auto sales are currently at a peak.
I previously looked at the second quarter trades that large investors made in Ford (NYSE:F). I think GM is in a similar situation. If anything, they may even be in a better situation since GM won't have the labor problems Ford is having and was able to discharge many of its debts through bankruptcy. On the other hand, I prefer Ford's management.
Below are what some big hedge fund and mutual fund investors did with GM last quarter:
Larry Robbins of Glenview Capital initiated a position in General Motors in Q2. This hedge fund manager bought 1.85 million shares last quarter. The stock now makes up a little less than 1% of his portfolio. Glenview Capital was founded in 2000 and manages about $7.5 billion. Robbins manages a focused portfolio and at times acts as an activist investor.
Richard Perry is a hedge fund manager and runs Perry Capital. He dramatically increased his stake in GM last quarter by buying nearly 2.4 million shares. GM now makes up about 5% of his portfolio. This was an interesting trade because Perry completely unloaded his Ford stake last quarter. That tells me that he still has a positive view of the auto industry in general, but saw something he particularly liked in GM. Perry also owns a limited amount of call options on GM.
Also increasing his GM stake was Omega Advisors' Leon Cooperman. Cooperman has been increasing his GM stake lately. In the second quarter he raised it by more than 700,000 shares. This followed a 687,000 share increase in Q1. The stock now makes up about 2.7% of his portfolio and is his 8th largest holding. Like Richard Perry, it appears that Cooperman saw something he liked more in GM than Ford. While Cooperman continues to hold Ford shares, he trimmed his position in Ford in Q2 while increasing his position in GM. Cooperman's largest stock holding is in student lender, SLM Corp. (NYSE:SLM).
Another buyer last quarter was billionaire investor George Soros. Soros is transitioning to a family office setup and is returning money to outside investors because of regulations that came out of the Dodd-Frank bill. While most of the assets already were Soros's, we may seem some positions trimmed because of the transition. However, Soros increased his stake in GM in Q2 after having cut it in Q1. In the last quarter Soros bought about 520,000 shares and currently owns 642,500 shares. This was after selling about 830,000 shares in Q1. He also increased his call option position in GM. Soros owns a lot of positions, more than 500. His largest stock holding is South African agriculture company Adecoagro (NYSE:AGRO). That appears to be a macro play and makes up 4.2% of his portfolio.
Disclosure: I am long F.