The stock market action starting around 1 August has attracted attention, not only because of the losses/volatility recorded, but also because of the high degree of correlation of (negative) returns across most sectors. I suspect fund managers are lost somewhere between performance anxiety on the up days and tail risk on the down days.
Worse still, many commentators are suggesting that the world has changed, and that because of high frequency trading and the growth of ETF investing, the events of the past few weeks are likely to reoccur with more frequency.
Reading the tealeaves on SA this suggests that, as a result of increased volatility, investors may tend towards defensive portfolios characterised by dividends and low volatility stocks with moderate growth prospects.
In a previous article, I examined two low volatility portfolios. One comprised Powershares S&P 500 Low Volatility (NYSEARCA:SPLV), and the other a low volatility portfolio of my construction LVA, which, has a higher beta.
The performance of the two portfolios incorporating the current downturn is: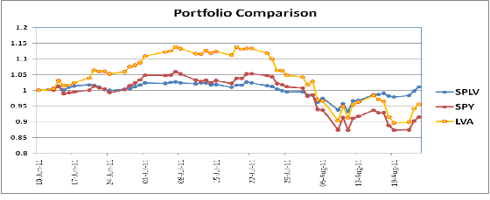 Click to enlarge
(Click to enlarge)
IF HISTORY IS TO REPEAT
Some of the performance of LVA can be attributed to 2 stock specific issues. That aside, I am looking for a systemic way to mitigate the large August draw down. If the events of this month are to repeat, then one suggestion is to modify the portfolio to hold 70% in stocks and 30% in iShares Barclays 20 Year treasury Bond (NYSEARCA:TLT).
The effect of this on the above portfolios is: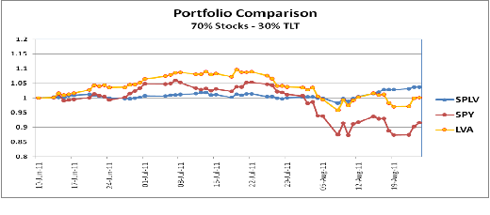 Click to enlarge
(Click to enlarge)
Comments are:
This strategy if implemented over the entire period, would result in lower upside performance for each portfolio, but not excessively so.

T

he reduction in tail risk is significant for both portfolios, and I suggest this is more important given the macroeconomic outlook.

If the market again rewards high beta stocks in the future, then there is still potential for out performance from portfolios such as LVA.

Holding a SPLV/TLT portfolio would have avoided all but a minor draw down, and would have added around 4% in the period, which is a very acceptable outcome in the circumstances.
AND BY THE WAY
Given the claims of good performance for little effort, I am also interested in looking at "lazy portfolios" in the context of a volatile market. This article refers to Swenson's 6 Asset Lazy Portfolio among others. I have looked at this in the current period and, while performance is acceptable, it has also been adversely affected by the current turmoil. Its performance has been: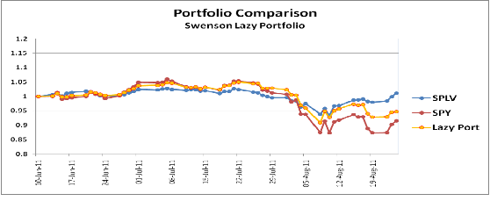 Click to enlarge
(Click to enlarge)
TIMING MANAGEMENT
In my view, the above analysis shows that active management may be viable and value adding in the current market. Clearly, holding TLT continuously appears to significantly mitigate tail risk during a highly correlated downturn. Having protected against the downturn, the issue is whether TLT will be a drag on performance in an upturn. Do I now reduce the holding of TLT and add higher beta stocks or ETF's.
This is a timing issue that might have an analytical solution.
I have been applying the concept of Mahalanobis Distance (MD) that identifies risk using both volatility and correlation. Lets redefine it as Market Turmoil and plot it over the past few years. It looks like this.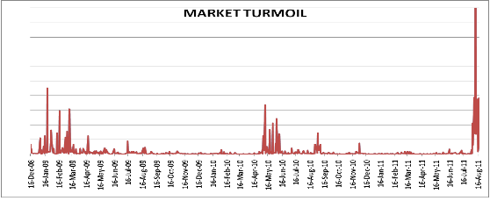 Click to enlarge
(Click to enlarge)
And superimposed on SPY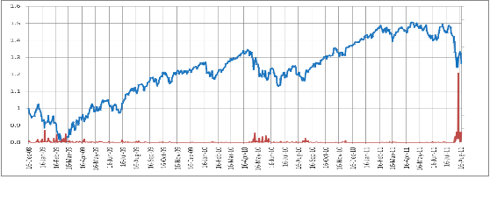 Click to enlarge
(Click to enlarge)
The time frame is limited, but one conclusion from this analysis is that market turmoil equates to lack of performance. Therefore there is no compelling reason to act while this measure is at elevated levels. Others have suggested that it also marks a formation of a bottom, and, again on the limited data, that may also be the case.
What is clear is that, once market turmoil abates, (and this is measurable), it will be safer to assume added portfolio risk, whether by replacing TLT or SPLV.
Disclaimer: The content in this document is provided as general information only and should not be taken as investment advice. The contents in this explanatory paper shall not be construed as a recommendation to buy or sell any security or financial product, or to participate in any particular trading or investment strategy. The ideas expressed on this site are solely the opinions of the author. The author may or may not have a position in any security referenced herein. Any action that you take as a result of information or analysis on this site is ultimately your responsibility.
Disclosure: I have no positions in any stocks mentioned, and no plans to initiate any positions within the next 72 hours.