One of the most hyped stocks in the past year has been the Brazilian natural resources conglomerate Vale SA (NYSE:VALE), traded as an ADR here in the U.S. Most pundits have pointed to the BRICs forecasts and noted that China and Brazil had the best growth prospects, and since Vale was in Brazil and sent its raw materials to China, this investment would be a no brainer. Well I keep looking at the numbers and they don't seem to stack up for me.
Vale engages in the exploration, production and sale of basic metals in Brazil. The company also is involved in fertilizers, logistics and steel businesses. The bulk material segment consists of iron ore mining and pellet production, as well as its Brazilian Northern and Southern transportation systems, including railroads, ports and terminals. This segment also includes manganese mining and ferroalloys. The base metals segment produces nonferrous minerals including nickel, copper and aluminum consisting of aluminum trading activities, alumina refining, aluminum metal smelting, and bauxite mining.
The fertilizers segment provides potash, phosphates and nitrogen. The Logistic Services segment consists of transportation systems, including ships, ports and railroads for third party cargoes. This segment includes 10,179 kilometers of railroad infrastructure, eight seaport terminals, five general cargo ports, and two iron ore export terminals. In addition, it generates energy through hydroelectric power plants. The company was founded in 1942 and is based in Rio de Janeiro, Brazil. (Yahoo Finance profile)
When I use Barchart to compare Vale's price over the past year to its 20, 50 and 100 moving averages, I'm not impressed:
Click to enlarge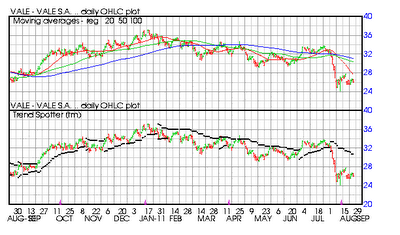 If I again use Barchart to compare the decrease in the yearly price of Vale to the increase in the Value Line Index I'm even less impressed:
Click to enlarge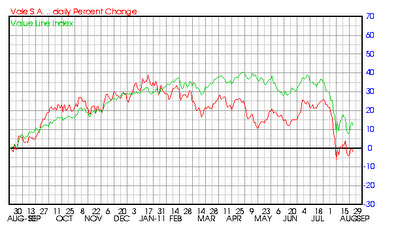 Let's look at the numbers and try to make a rational decision.
Barchart technical indicators:
60% Barchart short term technical sell signal that is weakening
Trend Spotter sell signal that is also weakening
Trades below its 20, 50 and 100 day moving averages
Recently lost 27.47% form its previous high
Relative Strength Index is 39.01% and strengthening
Barchart computes a technical support level at 25.46
Recently traded near 26.11 which is below its 50 day moving average of 29.82
Fundamental factors to consider:
Sales are expected to increase by 36.50% this year but only by another 3.30% next year.
Earnings are expected to grow by 61% this year but decline by 4.8% next year and only increase at the annual rate of 4.04% annually of the next five years.
Why do brokerage analysts have five strong buy, 12 buy, five hold and no under perform recommendations on a stock that is expected to have annual increases of sales and earnings going forward of less than 5%?
This is a China/Brazil play but recently analysts downgraded their China GDP growth rate from the mid 9.5% to around 8.3%, and Brazil's GDP growth rate was similarly downgraded from around 4.2% to 3.9%.
The only number I can find that I like is that Vale's P/E ratio is 5.31 in an industry where 11.37 is the norm.
General investor interest:
On Motley Fool this is in the top 25 when rating investor interest.
The 6,585 readers expressing an opinion voted 98% that the stock will beat the market.
The more experienced All Stars also confirm with a 98% positive vote.
Summary: I'm passing on recommending Vale SA for an addition to my portfolio. I realize that I'm not in agreement with most of the professional and individual investors. I'm looking just at the numbers and I see sales and earnings only growing by less than 5%. I like to see stocks growing sales and earnings by double digit forecasts. The rate of growth in its two primary markets - Brazil and China - seems to be slowing slightly. The only bright spot is that the stock is selling at half the P/E ratio for the industry. Sorry, but that's not enough for me. I'm passing on this one.
Disclosure: I have no positions in any stocks mentioned, and no plans to initiate any positions within the next 72 hours.