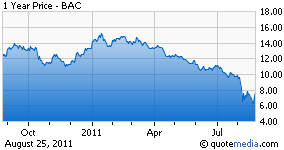 Warren Buffett's Berkshire Hathaway Inc. (NYSE:BRK.A) announced that it will invest $5 billion in Bank of America (NYSE:BAC), giving the nation's biggest bank a much needed vote of confidence amid questions about the credibility of its balance sheet and its management. Buffett calls the bank a "strong, well-led company."
Those who remain skeptical about Bank of America primarily argue that the bank is exposed to risks caused by the bank's mortgage loans and larger than ever credit card sector. However most of these are due to weak consumer trends and directly impacted by the national economy. In the long term, possibly 18 months or so, if thinking optimistically, consumer confidence will rebound and Bank of America will outdo its peers considering the fact that Bank of America holds the largest market share in the U.S. and owns a massively large customer base.
Recently, there were rumors that Bank of America would get taken over my JP Morgan Chase (NYSE:JPM), which was one of the most absurd rumors that even surfaced because, simply put, Bank of America is too big to be taken over. As of June 30, 2011, Bank of America is the largest U.S.-based financial holding company with assets of $2.26 trillion, loans of $941.3 billion, and total deposits of $1.04 trillion. Bank of America's U.S. deposits are approximately 12% of total U.S. deposits at $949 billion, according to Standard & Poor's. JP Morgan and Bank of America together would be too large to pass muster with regulators, so the government's backing the deal did not make sense.
Buffett's announcement restored investor's confidence in Bank of America and put a rest to the takeover rumors. After Buffett's announcement, shares of Bank of America soared during Thursday's trading day and closed up 9.44% at 7.65.
According to the deal's terms, Berkshire will get 50,000 preferred shares that carry a dividend of 6% a year and are redeemable at a 5% premium. The deal also warrants the purchase of 700 million BAC shares at $7.14 each over the next 10 years. If the warrants were fully exercised, Berkshire would own about 6.5% of the bank, which would make it the bank's biggest shareholder. The aggregate purchase price of the preferred stock and warrants totals $5 billion in cash, which is obviously a sweet deal for Buffett.
Disclosure: I am long BAC.