ETF Spotlight on AdvisorShares Active Bear ETF (NYSEARCA:HDGE), part of an ongoing series.
Assets: $64.6 million.
Objective: The Active Bear ETF is an actively managed fund that tries to reflect the inverse performance of domestically traded equity securities through short-sale trades.
Holdings: The fund holds negative weightings of select U.S. domestic equities to achieve its "bear" target. Top holdings include: SPDR Trust Series 1 (NYSEARCA:SPY) -8.97%, Industrial Select Sector SPDR (NYSEARCA:XLI) -4.44%, General Electric Co. (NYSE:GE) -3.38%, Whirlpool Corp. (NYSE:WHR) -3.13% and Best Buy Co. (NYSE:BBY) -2.97%.
What You Should Know:
AdvisorShares is the provider of the bearish ETF.
HDGE has an expense ratio of 1.85%.
The fund is up 21.67% over the last month, up 24.1% over the past three-months and up 12.73% year-to-date.
Sector allocations include: Technology 28%, Industrials 19%, Heatlhcare 7%, Financial 12%, Cash 12%, Basic Materials 2%, Communications Services 2%, Consumer Cyclical 12% and Consumer Defensive 7%.
"HDGE can be used as part of a long/short strategy in which an investor may synthetically integrate by pairing HDGE with a long-index ETF (or an investor's portfolio of long positions), providing the investor with a 'buy and hold' option to hedge their long domestically-traded equity exposure," according to the fund fact sheet.
The portfolio will hold 20 to 50 equity short positions.
The strategy selects component holdings based on income statement, cash flow statement and balance sheets in an attempt to weed out companies with low earnings or suspect accounting practices, along with other qualitative analysis.
The Latest News:
The fund manager's ability to quickly shift around the fund's positions has helped the fund perform better than broader market after establishing short positions in some of worse performing stocks. [ETF Chart of the Day: AdvisorShares Active Bear (HDGE)]
Over the past week, HDGE has gained 4.75%, whereas the broader S&P 500 has dipped 3.02%.
AdvisorShares Active Bear ETF
click to enlarge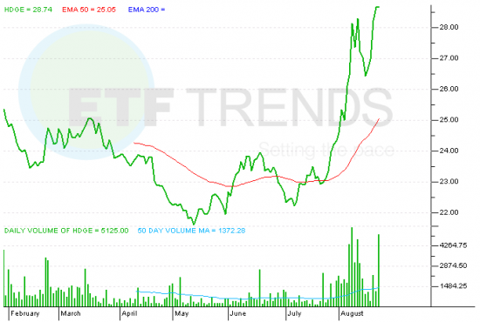 Max Chen contributed to this article.
Disclosure: None