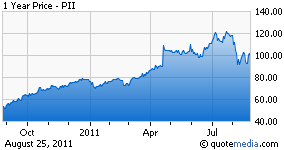 The market is down. Sentiment is bad. And investors are staring out the window wishing they were somewhere else. Sounds like the perfect time to talk about an off-the-beaten-path stock such as Polaris Industries (NYSE:
PII
).
Despite impressive sales and earnings boosting earnings forecasts, investors have knocked Polaris down 19% from its recent high. In Q2, Polaris sales rose 41% to $607.9 million. And, sales have grown more than 30% in each of the past four quarters. As for earnings, they're expected to climb 45% this year and another 18% in 2012. At $7.32 per share next year, analysts have boosted their expectations nearly 10% in the past 60 days.
The company isn't backing off the throttle either. The company's off-road segment, which includes ATV's, farm friendly side-by-sides and Bobcats, saw its sales increase 44% last quarter. Its Ranger side-by-side line is a top seller to outdoorsmen. And Polaris, recognizing the importance of heavy-duty products, is rolling out a new diesel powered option for 2012, which should further support sales. Of the company's $1.145 billion in trailing six-month sales, those off-road products were responsible for $870 million.
While the off-road category generates the majority of revenue, its on-road segment is no slouch either. Sales of its Victory brand motorcycles were up 99% in Q2 from last year. And the recent acquisition of the iconic Indian motorcycle brand not only complements Victory, but gives Polaris additional margin boosting scale. Polaris also strengthened its position in low speed, street legal electric vehicles, commonly seen in gated communities, by acquiring Global Electric Motorcars from Chrysler in June.
Each of the company's four product lines, which include off-road, snowmobiles, on-road and parts, garments and accessories are growing rapidly, with sales rising 47%, 110%, 86% and 21%, respectively.
This is great news for Polaris. But even more exciting is the potential for geographic expansion. After all, the majority of sales are still tied to North America. To strengthen its global footprint, the company has created new C-level positions targeting Europe, the Middle East, Africa, Brazil, India and of course China. This should help build overseas sales, which before these changes still grew an impressive 35% last quarter.
A 43% increase in North American sales, coupled with growth overseas, is boosting margins. Last quarter the company increased 300 basis points to 29.2%. In Q2, wider margins, driven by firm prices, helped earnings per share jump 90% from last year. And margins should benefit from the company's ongoing cost reduction plans, particularly given the opening of its new Monterrey, Mexico, manufacturing plant.
And with more cash rolling in, Polaris' balance sheet is improving. Net cash for the past two quarters increased 8% to $61.8 million from last year. Long-term debt has dropped to $100 million from $200 million and cash and equivalents are up significantly to $262 million, some $7.59 per share, from $166 million last year. Overall, the company's debt-to-capital has fallen to a much more attractive 18% from 45% a year ago.
Given the stock is off its highs, has lots of domestic sales momentum, a successful cost cutting program and an increasingly aggressive overseas strategy, investors should consider picking up some shares into the end of the seasonally weak Q3. As an added incentive, Polaris has beaten the Street estimates in each of the past four quarters, yields 1.8% and is set to split 2:1 to owners on record as of September 2nd.
Disclosure:
I have no positions in any stocks mentioned, but may initiate a long position in PII over the next 72 hours.