Risk assets haven't been the same since the end of April. Yet they didn't begin to look feeble until one month ago, around the moment that the U.S. government was floundering over the debt ceiling.
First, stocks and commodities debated whether or not Congress could agree on any type of legislation. Next, they struggled with sovereign debt contagion in Europe. After that, markets became petrified by increasing signs of economic contraction in the U.S. and abroad.
Month over month, however, there has been a startling difference between total commodity performance and total stock performance. For example, the iShares MSCI All-Country World Index Fund (ACWI) shed -12.5%. In contrast, the iPath Dow Jones Total Commodity ETN (DJP) has dropped a more manageable -3.3%.
Admittedly, if the recent prognostications of global growth turn out to be accurate, one would expect commodity demand to slow. Moreover, Dr. Copper via iPath Copper (JJC) has not been able to sustain an uptrend. It still languishes beneath 50-day and 200-day trendlines.
Click to enlarge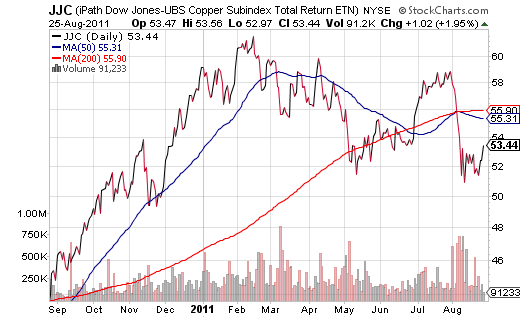 That said, Bernanke's speech from Jackson Hole, Wyoming, may do more to reflate commodity prices than it may do to reflate stock prices. Athird round of quantitative easing may continue to weaken the value of the dollar on the global currency stage, propping up commodities that are priced in dollars. Yet stocks are unlikely to reassert themselves fully until business hiring picks up and economic activity itself strengthens.
Indeed, I do believe there are several remarkable values in stock-land. Yet I'm not going to get in front of a train wreck in intra-bank lending or in unusually high levels of volatility.
Depending on how markets interpret Bernanke's speech, I may add to positions that my clients already hold. In total commodity ETFs, that includes GreenHaven Continuous Commodity (GCC) and iPath Total Commodity (DJP). PowerShares DB Agriculture (DBA) and iPath Grains (JJG) are considerations as well.
Month Over Month Commodity ETF/ETN Performance
Approx %
iPath DJ Grains (JJG)
4.4%
PowerShares DB Agriculture (JJA)
2.1%
Greenhaven Continuous Commodity (GCC)
-1.0%
iPath DJ Livestock (COW)
-2.4%
iPath DJ Total Commodity (DJP)
-3.3%
PowerShares DB Energy (DBE)
-5.7%
iPath DJ Copper (JJC)
-8.2%
PowerShares DB Base Metals (DBB)
-9.7%
S&P SPDR Trust (SPY)
-11.0%
Disclosure: Gary Gordon, MS, CFP is the president of Pacific Park Financial, Inc., a Registered Investment Adviser with the SEC. Gary Gordon, Pacific Park Financial, Inc, and/or its clients may hold positions in the ETFs, mutual funds, and/or any investment asset mentioned above. The commentary does not constitute individualized investment advice. The opinions offered herein are not personalized recommendations to buy, sell or hold securities. At times, issuers of exchange-traded products compensate Pacific Park Financial, Inc. or its subsidiaries for advertising at the ETF Expert web site. ETF Expert content is created independently of any advertising relationships.