KKD delivered a sweet and fattening quarter when it reported second quarter earnings of 12 cents, on sales of $98 million, and Wall Street seemed to take notice, as it promptly marked the shares up 4% in extended trading. Although the company met earnings estimates (when excluding onetime gains), it trounced sales forecasts by nearly 7%, thanks to robust growth in its international franchise segment of 34% and a 2.5% increase in same store sales. The company reiterated its 2012 fiscal year operating income guidance range of $22 to $24 million, with emphasis on the top end of that range.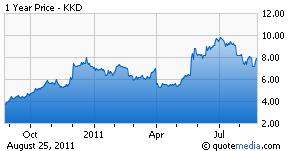 The donut purveyor now has 669 units in its system (it added 17 stores during the quarter) consisting of 88 company owned locations and 581 stores operated by franchisees. The company is not shy about expansion anymore, as evidenced by recently signed development agreements with their franchise partners in Japan and Mexico, who plan to open an additional 143 units within the next five years.
The quarter analyzed: KKD managed to improve its gross profit margin from 12.30% to 12.50% despite enduring significant price increases in both fuel and commodity costs. It was also successful in trimming its G&A costs 70 basis points from 5.7% to 5.0%, as well as chopping its interest expense nearly 75%, from $1.6 million to $410,000, due to lower debt levels and more favorable interest rates.
In terms of liquidity, the company is firing on all cylinders, as it saw a unique milestone come to fruition, when its cash holdings of $32 million (up 50%) actually surpassed its long term debt of $26 million (down 21%), If this trend continues, the adoption of a regular cash dividend appears to be a distinct possibility!
Robert Stiller's Intentions: The founder of Green Mountain Coffee Roasters (NASDAQ:GMCR) has recently acquired an 11% stake in KKD, conjuring up speculation that a play for the company could not be far off. A possible acquisition could make sense, as it would offer nice synergy for GMCR to distribute its products. Whether Stiller decides to purchase more shares or not, KKD is an investment worth considering.
Disclosure: I am long KKD.