It's not just about the soda anymore - while Coca-Cola the soft drink is an everyday drink for everyone from Warren Buffet to myself, Coca-Cola (NYSE:KO) the company has become the distributor of almost every drink you see at delis, supermarkets, vending machines, and anywhere else where people get drinks. Browsing the product line, you can find over 3,500 drinks being sold by the company with a presence in every corner of the developed and developing world. These, however, are trivial facts. What makes the equity a buy? One key factor has been its huge efforts at developing China's consumer market.

Yesterday, August 25th, Coca-Cola (KO) dropped about 2.5%, more than the major indices. There were no big data releases for KO yeserday, so the somewhat big slide in the share price is unusual for the company. Nonetheless the slide represents a short term buying opportunity on top of a stock that is close to breaking out of its range.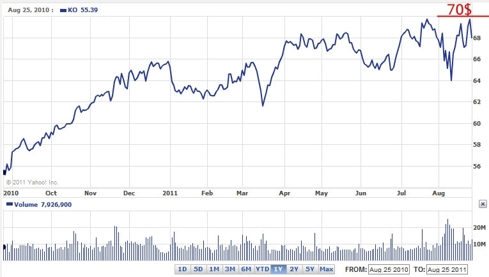 Click to enlarge
As you can see from the chart (click to enlarge), Coca-Cola is very close to breaking the $70/share mark. Generally, shares which are near or at all-time highs have fundamentals that support the new price levels. KO is trading at a P/E of 12.70, a very fair price considering the safety of the earnings. On top of that it yields a solid 2.77% dividend which has been increased for the last 49 consecutive years.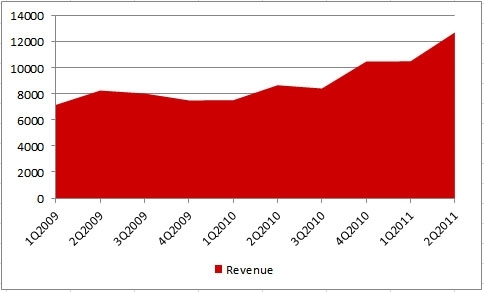 Coca-Cola has had accelerating revenue growth in 2010 and the first half of 2011, indicating that markets have been increasingly thirsty lately. Having been in the industry for 125 years, KO also has a huge edge over smaller competitors through brand recognition and extremely refined marketing campaigns that have been able to penetrate the beverage industry in everything from social networking sites to billboards. It even works to appease environmentalists with slimmer bottle design and more recyclable goods. Talk about good PR.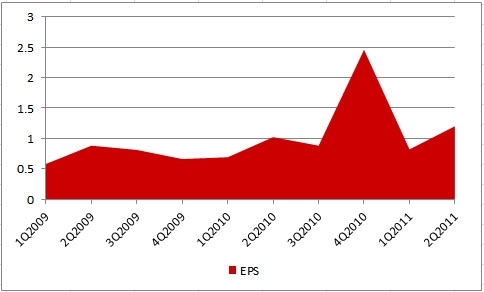 Earnings have been a little more confusing, as KO does have some liabilities which affect its performance. Interest on debt has increased significantly in the last few years, and depreciation has also been a factor. Nonetheless these costs will not hinder the underlying growth behind Coca-Cola's consumer market. It's huge spike in earnings in Q4 of 2010 helped to push the stock into the $60+ dollar range, where it has been trading for all of 2011. Another strong earnings performance in the upcoming Q3 or Q4 report could finally push KO shares above $70 where it should stay unless the market heads south.

Overall there are a lot of reasons to buy KO unless you are very overweight in defensive stocks or you enjoy trading on a short timeframe (KO moves in a very narrow range as you may know). If you're looking for some defense, the 2.5% pullback yesterday is even more reason to grab shares of KO which have a great yield and valuation in a company with strong prospects for the future.

Disclosure: I have no positions in any stocks mentioned, and no plans to initiate any positions within the next 72 hours.