It's been a wild and wooly ride this summer, with volatility surging and triple-digit price swings becoming a common occurrence. Picking winners has been a daunting task. Very few areas of the market that have held up well, most notably solid dividend paying stocks in the Utilities sector.
This sector is also the Year-To-Date leader, and has beaten the S&P consistently this year. Institutional buyers have increased their holdings over the past quarter, using these low beta stocks to defend their portfolios. Click to enlarge: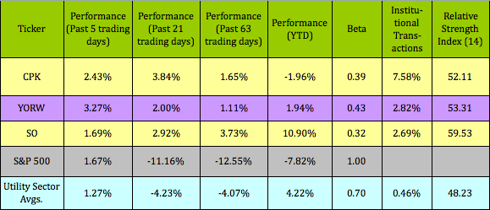 Click to enlarge
The dividend stocks listed above operate in various parts of the utilities business:
Chesapeake Energy (NYSE:CPK) is a diversified utility,which operates in Delaware, Maryland, and Florida. CPK handles natural gas, propane, and electric distribution, and natural gas transmission and marketing. CPK services over 200,000 customers.
York Water (NASDAQ:YORW),was founded in 1816, and is the nation's oldest investor-owned utility. YORW is a regulated utility, operating in 33 municipal areas in PA.
Southern Co. (NYSE:SO) is an Atlanta-based regulated electric utility firm, and is one of the largest utilities in the US, serving customers in municipalities in Alabama, Florida, Georgia, Mississippi, and the Carolinas. SO also is also moving into nuclear energy, via its subsidiary Southern Nuclear, with three nuclear generating plants in Alabama and Georgia;In addition, SO owns SouthernLINC Wireless, a communications network with a 127,000 square-mile coverage area in the Southeast; and Southern Telecom, a fiber optic wholesaler in the Southeast.
Dividends Info:
click to enlarge


Click to enlarge

Southern Co.has the highest dividend yield of the group and is listed in our High Dividend Stocks By Sectors Table.
Covered Calls & Cash Secured Puts:
Only Southern Co. has options available. A Jan. 2012 $41.00 Covered Call trade currently offers a 14% plus yield, with the call option fetching over 3 times the dividend amount for this 5-month term. You can see more info on this and many other covered calls in our Covered Calls Table. Click to enlarge:


Click to enlarge
Selling a Jan. 2012 $40.00 cash secured put, below SO's current price, would net you a $1.94 premium, and a $38.06 breakeven, only about 11% above SO's 52-week low.
You can see more info on this and many other cash secured put trades in our Cash Secured Puts Table. Click to enlarge:


Click to enlarge

Financials:
click to enlarge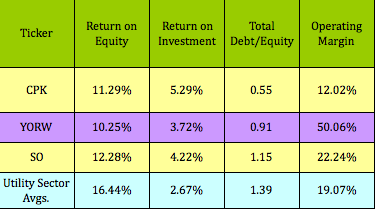 The defensive nature of these utility dividend stocks has been strong enough to attract support, even though their ROE ratios are below the sector average.
Valuations/EPS Data:
click to enlarge


Click to enlarge

Although utility stocks aren't normally known for outstanding growth, these firms have all achieved EPS and sales growth in the most recent fiscal year and quarter. However, they appear to have slower growth prospects for their next fiscal year.
Disclosure: No positions at this time.
Disclaimer: This article is written for informational purposes only, and isn't intended as individual investment advice.