The turmoil in Europe continues to grind on without resolve. The selloff and uncertainty has created many bargains, some with unheard of dividend yields, especially in the telecom sector. I have already highlighted the investment cases for Vodafone (NASDAQ:VOD) and Telefonica (NYSE:TEF). Another European telecom that appears very oversold is France Telecom (FTE).
France Telecom – France Telecom provides fixed telephony and mobile telecommunications, data transmission, internet and multimedia, and other value-added services to consumers, businesses, and telecommunications operators. It also offers personal and home communication services, business network services, international carriers and shared services, and integration and outsourcing services for communication applications.
Business description from Yahoo Finance
8 reasons to buy FTE at under $19 a share:
1. FTE appears to have found a technical bottom which it has bounced off of twice in the last couple of weeks (See Chart)
click on image to enlarge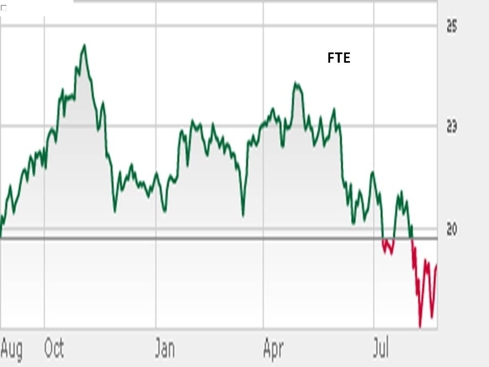 2. It is at the very bottom of its five year valuation range based on P/E, P/S, P/B and P/CF.
3. FTE yields over 9% and has grown its dividend payout by an average of over 9% annually over the last five years.
4. It has an A- rated balance sheet and a low beta (0.79).
5. Despite the challenges in Europe, it produces prodigious cash flow. Its enterprise value is less than 6 times operating cash flow.
6. FTE is selling at less than 8 times this year's expected EPS and under 0.8 time trailing annual revenues.
7. Although telecom revenues will be affected by slow growth in Europe, they offer a "sticky" service that will be less impacted than most consumer based services. In addition, the problems in government budgets might eventually force the French government to sell their remaining stake in FTE which would result in a much more efficient organization.
8. S&P has a price target of $23 on France Telecom and the consensus analyst target on FTE is just under $22 a share.
Disclosure: I am long VOD, TEF. I may purchase FTE in next 72 hours as well.