One good thing came out of the Steve Jobs story. Apple (AAPL) stock rebounded, as I assumed it would, proving at least this one time that investors can ignore the noise and act rationally.

For reasons I have recently outlined on Seeking Alpha, AAPL is once again a buy. Heading into the holiday season, amidst all of the uncertainty, the stock provides a safe haven for investors. They'll sell the Landrover if they have to or find a boarder for the spare room, but an Apple product will end up under every upper middle class family's Christmas tree this year.

Buy the stock outright and sell puts until you're blue in the face, AAPL is a lock going into 2012. That being said, I'm still not happy. In fact, I'm sort of mad.

Not only do we have to endure the insensitive and unnecessary discussions about the man's health and personal life, but we have to listen to drivel that has become typical in our society - Who is the next Steve Jobs?

In case you missed it, TheStreet.com, a website I tend to really like 98% of the time, has an incredibly unscientific poll working right now. It's like really bad talk radio. America, here are your choices - Jeff Bezos of Amazon.com (AMZN), Reed Hastings of Netflix (NFLX), Lary Page of Google (GOOG), Mark Zuckerberg of Facebook and Elon Musk of Tesla (TSLA) - you have the floor, tell us who you think is the next Steve Jobs!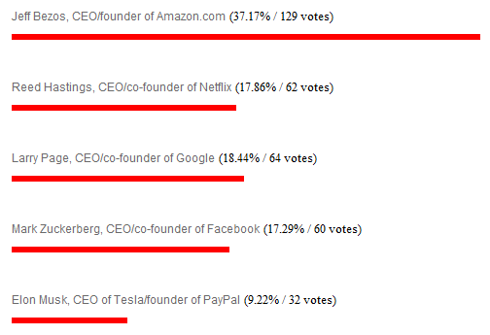 These five candidates have all accomplished quite a bit. And each one of them will continue to do great things in their careers. Yes, even Hastings. After Netflix implodes, I have a hard time believing he won't be able to find a decent job or a helping hand.

I guess people eat this stuff up, but it troubles me that we live in a society that needs to pin success or failure on one person.

If you're a hockey fan, you probably hate hearing about "the next Gretzky." Ask Eric Lindros how that worked out. And if you're a Springsteen fan, you know that he was "the next Dylan." All of that talk proved to be nothing more than simplistic babbling. These types of comparisons just never work out.

The same people who think Apple will die a slow death because Jobs is no longer CEO will be the first to crucify Bezos, Hastings, Page, Zuckerberg or Musk if their respective companies falter. And, if Amazon, Netflix, Google, Facebook and Tesla continue to do well, the aforementioned will get all of the glory.

That's just what we do as Americans. You said heroes are needed, so heroes get made. And on the flip side, as an example, it really stinks for the president that Osama bin Laden is no longer around. He has nobody to direct the electorate's bitterness and rage toward.

Americans just hate layers of complexity. We prefer simplicity. Or better yet, we do whatever we can to keep ourselves from having to think.

Steve Jobs is Apple. Jeff Bezos is Amazon. Larry Page is Google. Mark Zuckerberg is Facebook. Elon Musk is Tesla. And bin Laden is public enemy No. 1. We pay scant attention to historically-rooted causes for this or for that. We don't take the time to study complicated and multi-faceted systems that breed success.

We pin everything on one guy. And, of course, if that one guy slips up, we'll turn on him and make his life a living hell going forward. How dare Steve Jobs get sick and leave Apple shareholders in limbo? Off with his head!

Back when I worked in Dallas, I rode an elevator one afternoon with former Dallas Stars head coach Ken Hitchcock. I said, "Hitch, you've got the Rangers next. They'll be pretty tough if Gretzky plays."

The coach's response surprised me a little. He said, "You know, Rock, I think the Rangers are actually tougher to play without Gretzky." His rationale: With Gretzky on the ice, his teammates' main focus is on getting him the puck at the expense of the system.

Now, I would be crazy to say that Steve Jobs has been a liability to Apple. Just like Hitchcock did not mean to imply that Gretzky was a liability to the Rangers. But, when Apple unveils iPhone 5, the company will likely do what it should have done when it introduced iPad 2 - let Tim Cook, a role player type of CEO, take the stage.

Just like Gretzky deserved the spotlight in his final game as a Ranger, Steve Jobs probably deserved it alongside iPad 2. But now that he's, for all intents and purposes, out of the picture, investors will be able to clearly see that Apple, with or without Jobs, focuses on the system. It's the system that makes Apple win big. Late in his career, Jobs simply continued to provide the inspiration. No matter what role he assumes, that inspiration will live on.

Fellow Seeking Alpha contributor Andy Zaky said it best:
Steve Jobs has no more than a negligible impact on Apple's current innovation, earnings and future. When I say he has no more than a negligible impact, I'm being generous. The fact of the matter is, once a company reaches the size of Apple, there are so many moving parts that make the company what it is that one person can no longer have such a massive impact on any aspect of the company.

Hundreds of thousands of man hours have gone into the design of Mac OSX, Apple iOS, the iPhone, the iPad and Macintosh computers that one person can't be said to be responsible for all of that success. I think the market overstates the value of any CEO to its company.

While setting the overall direction and vision for the company is extremely important, Steve Jobs has already set Apple on the right course.

There's an obvious name brand that everyone who uses Apple products or who works at Apple already fully recognizes. From that framework, we get innovation from thousands of employees.
If I were Bezos, Hastings, Page, Zuckerberg or Musk, I would step down tomorrow and hand the reigns over to a role player CEO. I'd become chairman of the board or something and, quietly, out of the public eye, play my part in the system. I would relinquish the role of superstar CEO who gets all of the glory or all of the crap, depending on which way the wind's blowing, and probably deserves much less of both.

After the initial knee-jerk reaction, both company and stock will probably experience smoother sailing than Apple did when the focus was placed on Steve Jobs' personal life. With that out of the way, just the opposite of the doomsayers' all-too-obvious predictions will hold true. AAPL might finally have a clear line to $500 by the end of 2012.

Disclosure: I have no positions in any stocks mentioned, and no plans to initiate any positions within the next 72 hours.

Additional disclosure: I may open or close positions, most likely using options, in any of the stocks mentioned in this article at any time.