Warren Buffett is widely considered to be one of greatest investors of all time. While some hedge fund managers may have a better year than him, very few if any can match his long term track record of outperforming the S&P 500 index (NYSEARCA:SPY) by a whopping 10.8% since 1965. For this reason Mr. Buffett has obtained a cult like following, and has become a household name synonymous with diligent and disciplined investing. This notoriety hasn't gone unnoticed by many organizations. Occasionally troubled firms will ask Mr. Buffett to monetize his name in return for a sweet heart deal, effectively paying a premium in order to symbolically show that their organization is still a good investment. Yesterday's deal between Bank of America (NYSE:BAC) and Berkshire Hathaway (NYSE:BRK.A)(NYSE:BRK.B) is just another example of a firm paying a premium above their cost of capital in order to get Mr. Buffett's stamp of approval.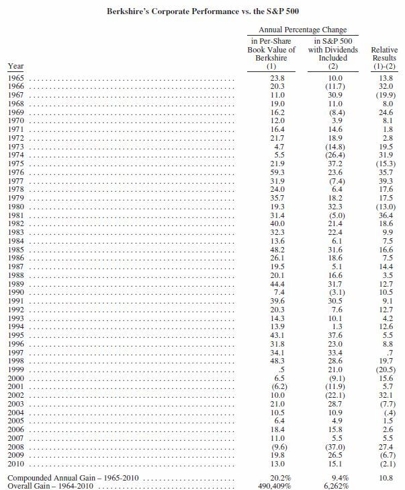 (Click to enlarge) Source: Berkshire Hathaway 2010 Annual Report
Over the past several years, many down trodden firms have sought to raise capital and confidence by arranging a deal with the Oracle of Omaha. In the fall of 2008, during the Lehman Crisis, Mr. Buffett cut deals with both Goldman Sachs (NYSE:GS) and General Electric (NYSE:GE). In the Winter of 2009 Berkshire again extended capital to both Harley Davidson (NYSE:HOG) and Tiffany's (NYSE:TIF) see links below for the details on these deals. In each instance Mr. Buffett structured a deal that was quite onerous for the debtor in exchange for his vote of confidence. In the case of General Electric and Goldman Sachs Mr. Buffett took a deal where he received convertible preferred shares paying a 10% annual dividend yield. In the case of Tiffany's and Harley Davidson Mr. Buffett arranged a deal where Berkshire bought bonds from the companies paying an annual interest rate of 10% and 15% respectively.
Warren Buffett's most recent deal with Bank of America is much the same. During a period of duress Bank of America needed to secure investor confidence in order to stop the tailspin its share price was in. CEO Brian Moynihan was able to staunch the bleeding by agreeing to a $5 Billion investment from Berkshire Hathaway, but BofA had to pay a substantial premium in order to obtain Berkshire Hathaway's vote of confidence. The deal, much like the Goldman Sachs and General Electric deals of 2008, has Berkshire Hathaway infusing Bank of America with capital. In return Berkshire Hathaway receives 50,000 preferred shares worth $100,000 each that pay a 6% annual dividend, and warrants to purchase up to 700 Million shares of Bank of America at an exercise price of $7.14287. The preferred shares will pay a dividend on a quarterly basis, and can be redeemed by Bank of America at any time for a 5% premium. The options have a life span of 10 years, and can be exercised at any point during that period.
In response to the deal, Mr. Moynihan had the following to say:
We are building the best franchise in financial services and we have laid out a clear plan to deliver long-term shareholder value. I remain confident that we have the capital and liquidity we need to run our business. At the same time, I also recognize that a large investment by Warren Buffett is a strong endorsement in our vision and our strategy.
What is being implied by Mr. Moynihan is that Bank of America needed confidence more than capital, and BofA was willing to pay Warren Buffett and Berkshire Hathaway to get it. To further prove that Bank of America is paying a premium for Mr. Buffett's name, you just have to go back to July 7th when the bank sold $2.5 Billion worth of 5 year bonds paying 3.75% , a 225 basis point discount to the yield on the deal. In conclusion, it pays to be Warren Buffett, and by proxy a Berkshire Hathaway shareholder.
Source: Forbes.com
Sources:
Disclosure: I have no positions in any stocks mentioned, and no plans to initiate any positions within the next 72 hours.