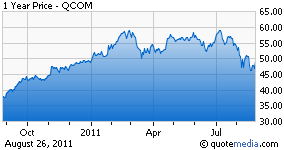 Investing in smart phone stocks has been one of the most lucrative ideas in the stock market over the last 5 years. Apple (NASDAQ:AAPL) is up over 452%, while ARM Holdings (NASDAQ:ARMH) is up 287%. Google (NASDAQ:GOOG) is up over 36%. By comparison the NASDAQ is up a paltry 13.85%. But the company I would like to bring readers' attention to today is Qualcomm (NASDAQ:QCOM), whose chips are present in virtually every smart phone, and whose patents generate royalties from every manufacturer. Over the past 5 years its stock has appreciated just over 26%, excluding dividends, and we believe that it has more room to run.
All investments carry risk, and that is something no investor can truly avoid. smart phone makers like Apple have execution risk, and the resignation of Steve Jobs could add to that. While ARM Holdings does not have execution risk, its P/E ratio of 80 is rather high. Qualcomm trades at a far more reasonable P/E of 18, and a forward P/E of 17. Qualcomm, however, has far less execution risk than any one smart phone maker, for it is levered to the 3 smart phone platforms that will be important going forward.
Apple's iOS: Qualcomm's CDMA chips are present in the Verizon iPhone, and if the rumors about Sprint receiving the iPhone are indeed true, then that presents a brand new market for Qualcomm.
Android: The vast majority of Android phones run on Qualcomm's chips. In fact. CNN has coined the term "Quadroid," in honor of Wintel.
Windows Phone 7: Though this is an unproved OS, Microsoft (NASDAQ:MSFT) knows that it represents what is likely its last chance at having any piece of the smart phone market, and it is willing to use its enormous financial power to get it done. Should Windows Phone 7 succeed, Qualcomm stands to benefit, as it is currently the exclusive chip supplier for Windows Phones.
We have not included Blackberry or webOS in this list because the future of these 2 platforms going forward is very uncertain, and it remains to be seen what Research In Motion (RIMM) and Hewlett Packard (NYSE:HPQ)'s plans are for the future. But Qualcomm has much more going for it than its leverage to the booming smart phone market, which should be enough of a reason to invest in it on its own.
Qualcomm's financial strength is enormous. It has over $22 billion in cash and marketable securities on its balance sheet, and no debt. This works out to about $12/share in cash, which Qualcomm has been using actively on all fronts, from acquisitions, to share buybacks to dividends. Qualcomm has steadily increased its dividend since it was initiated, up to a current 21.5 cents, which gives the stock a 1.8% yield at current levels. In addition, Qualcomm has been actively buying back stock, a trend that, along with dividend increases should continue.
Qualcomm's future prospects, good valuation, and shareholder friendly approach to use of capital make Qualcomm, in our opinion, a great play on the continued growth of the smart phone market. While the handset makers battle fiercely for every dollar of profit and every point of market share, Qualcomm can relax and watch the cash come in the door.
Disclosure: I am long QCOM.