Apple (NASDAQ:
AAPL
) is no more than one or two days away from kicking-off a massive move of epic proportions. People are going to look back at this time as being a pinnacle moment in Apple's history, matching the other major moments of July 2006, July 2007, March 2009, August 2010 and June 2011. Each of those months marked either a major turning point or the beginning of a massive move for Apple.
At the current moment, an enormous symmetrical triangle is forming on Apple's 60-minute chart. This indicates an immediate move up to the $430 level on a short-term basis on a breakout. I believe Apple could trade above $430 just before or after its fiscal Q4 earnings which are due out near the end of October.
As you can see from the charts below, the top of the symmetrical triangle sits at $404.50 while the bottom of end of the pattern is around the $344.50 level. This indicates a 60-point short-term move from the $375 - $378 level. It would put Apple in and around $430 a share.
Click to enlarge
charts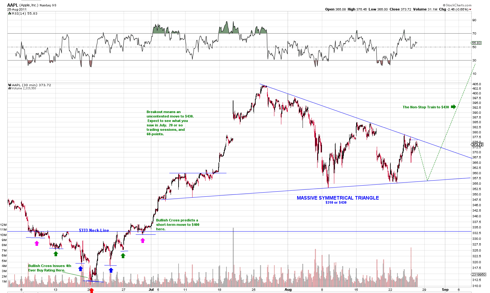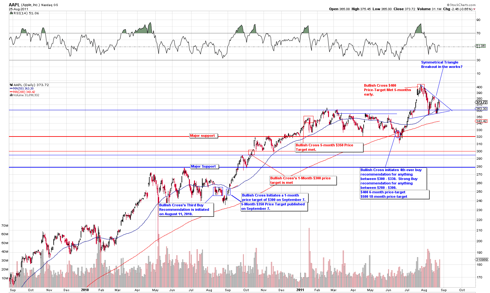 If we breakout to the upside, we're going to see $450 before year's end. There's no question about that. Yet, if we see a breakdown, it probably means the market has failed, and we're in some sort of an extended bear market. In fact, I believe if we see a breakdown, investors can expect to see Apple re-test $310 and we might even see a short-lived sub-$300 print putting Apple below a 10 P/E ratio and freaking out investors.
Notice, that this is a major "if" because I don't believe we're going to see a breakdown. In fact, I'm putting my weight behind a breakout. The reason for this is simple. I think the market is about to turn around and I think September will end up being a massive month for technology stocks.
Bullish Cross is not yet confident enough to initiate its rare and extremely proficient buy rating. But we think that it's pretty darn close to call, and if it weren't for market uncertainty, we would be initiating a buy rating and an October $430 price-target. The fact that we're even willing to discuss the idea of a buy rating means we feel pretty strongly that Apple will soon be making a massive breakout the upside.
The last time Bullish Cross initiated a buy rating on Apple was on
Friday, June 17, 2011
after the closing bell. Apple ended up bottoming the following Monday. We also held a $400 July Price-Target. We've nailed the bottom on every one of our previous buy rating and Bullish Cross has never missed a long or short-term price target-- including our July 2011 $400-price target and our October 2010 $300-price (both were set one month before and forecasted a 50-plus point move).
The Risks To This Forecast
The main reason we're not officially initiating a fifth buy rating at this level is because there is too much uncertainty with the S&P 500. We still believe that it's possible for the S&P to retest the 1,100 level which would obviously put downside pressure on Apple.
If we end up seeing another major leg down on the S&P - which we think is very possible - it could end up leading to a breakdown of this triangle pattern which would inevitably lead to a technical-based sell-off on Apple.
That is precisely what this comes down to. If we go down 300-points on Jackson Hole and Apple is pushed down back to the $356 level, there is an increased risk that the stock could see a symmetrical triangle breakdown and trend-reversal.
Because of this market risk, we do not have enough confidence to give Apple our rare "official" buy rating at this level. Unlike analyst buy ratings, we only institute buy ratings when we are well over 90% confident that the stock is about to make a massive move to the upside on a short-term basis. And this is precisely why we've never been wrong when issuing such a rating. In most instances, these buy ratings only come out once a year and we already published one in June ahead of a near 90-point move in Apple.
Here's Why We're Confident In A Breakout
While symmetrical triangles tend to be continuation patterns that break to the upside they do often break to the downside. So one can ask: Why are we so confident that this pattern is breaking out to the upside?
The answer to this question is very simple really. First, Apple just reported the biggest blowout in earnings I've ever seen. The company is going to end the year with about $29.50 in earnings per share and almost $90 billion in cash. The iPhone 5 is about to be released during a seasonally very strong period in the company's history.
There is no period that is more prolific for tech in general and Apple in particular than the months of September to January. As anyone can see from these two charts below, the stock tends to see huge moves during the second half of the year and in the vast majority of the time those gains take place between September and January.
We're days away from the month of September - one of the most prolific for the company - and the stock is forming a massive bullish pennant/symmetrical triangle pattern. On top of that, the stock completely brushed off news of Steve Jobs stepping down from the CEO position, and actually outperformed the broad-market sell-off with a minor loss on the day.
If Apple was going to see a major breakdown, today would have been the obvious day. Steve Jobs stepped down from the CEO position and the nasdaq was down almost 50 points. Yet, the stock only lost $2.46 which was an insignificant loss compared to the negative news report, and weakness in the broader market.
Finally, the stock has clearly demonstrated that it is uncomfortable trading under the $360-level. It has already tested that level on two occasions and has gravitated toward the upper-300 level on three separate occasions.
Based on these and the other countless fundamental reasons we've stated over the past few months, we think Apple is sitting right at the precipice of another major breakout to $430 by October and $450 by January.
Now we're not just blindly bullish on the company. In fact, we warned on
four separate occasions between July 5 and August 3 that the markets were setting up for a massive sell-off based on the epic head and shoulder pattern exhibited on the S&P 500. And we also argued that Apple would trade significantly lower than its post-earnings opening price ($396.12) four weeks later in a 10-chapter compendium on earnings. In fact, we sold our short-term Apple positions right at the opening bell after earnings, and are just now finally reassuming those short-term positions based on this symmetrical triangle set-up.
In
Part 2
, we discuss how we are positioning ahead of this breakout, the levels at which we have complete confirmation that a breakout is real and in full effect, and how we plan to deal with a scenario where there's a breakdown instead of a breakout.
There's a high level of risk and a high potential for reward. To gauge that risk-reward profile, one must assess the potential losses, the chances that we'll see those losses and whether the potential gain makes the trade worth it at all. We think we'll nail a
10-bagger
over the course 2012 starting with this trade here.
Disclosure:
I am long AAPL.