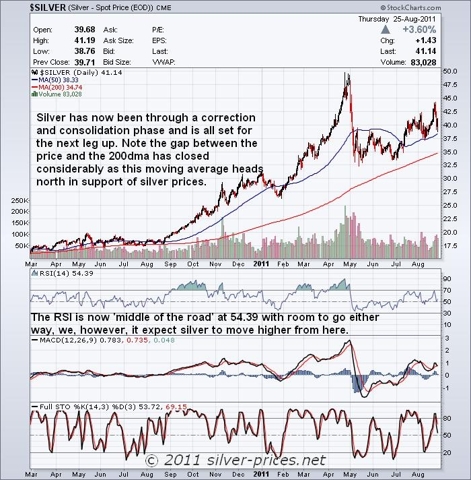 Click to enlarge
Silver has now been through a correction and consolidation phase and is all set for the next leg up. We'll start with a quick look at the chart. First of all, please note that the gap between the price of silver and the 200dma has closed considerably as this moving average heads north in support of silver prices. The RSI is now middle of the road at 54.39 with room to go either way, but we expect silver to move higher from here.
Conventional wisdom tells us to buy the dips. The difficulty with this old adage is how to know when the dip is complete and it is safe to re-enter the market. There are a myriad of factors to be considered, and any number of one-off events that can wreak havoc on the best of plans. There are also changes to the rules that impacted on the margin requirements recently, that were not included in your plan. The prospect of peace in Libya appears to have helped ease the tension a little in that area, although there is still a long way to go in order to truly stabilize the situation.
However, the fundamentals that have supported the rise in silver prices remain intact, with the popularity of silver increasing on a frequent basis, thus adding to the demand side of the equation. The lack of political will to implement prudent fiscal measures along with the "print now, pay later" actions of various governments has led to a distrust of both the political system and the fiat currency of which they are the guardians.
Almost everyone can now see that costs of just about everything are rising at an alarming rate. This is what happens when there is too much money chasing a set amount of goods and services. The really sad thing about this situation is not the oscillations of the stock market or the price of a new set of window wipers for the Mercedes. Its that the people who had very little to start with now face starvation. When faced with a situation of hopelessness, real or perceived, people will demonstrate -- and should their concerns be ignored, fists will fly.
We would all prefer to be a part of a balanced society where honest toil is rewarded and opportunity is visibly there for everyone to see and grasp with both hands, should they wish do so. However, we are where we are, and need to do what we can, no matter how small the effort, to protect ourselves.
This takes us back to silver. Having been a form of money for 6,000 years, we see its resurgence as symptomatic of a society leaning towards hard assets as opposed to the folding stuff. We have advocated its acquisition for some years now, and our strategy has remained consistent with this thinking. Firstly, buy the physical silver and keep it in your possession. Secondly, acquire a selection of good quality silver producers. Finally, if you have the stomach for it, the purchase of options where both silver and/or gold are the underlying commodities can help to turbo-charge your trading account.
Your trading account can be thought of as the riskiest element of your portfolio. With stocks, your core holdings, being less risky, we must remind you that there are numerous risks associated with the profession of mining. Owning the physical metal puts you in control and removes any third-party dependencies. Yes, you might need to buy a large dog, but the exercise will do you good.
There is also the philosophy whereby a small percentage of your wealth, say 5% to 10%, should be in precious metals. As good as this advice might be, we can only ponder where the lion's share of your wealth is to be placed. We are extreme in this respect, and we own no other stocks, outwith the metals sector. Our stance is far too extreme for most people, but as they say, "to each his own." We all need to take ownership of our lives, assess the situation and go to bat accordingly.
You know where we stand:
Physical silver
Associated mining stocks
Occasional trades in the options market
Looking beyond the short-term bumps in the road, we expect silver to surprise to the upside and challenge the $50-per-ounce level in short order. Once above this level, we expect silver prices to accelerate and never to return to $50 again.
So get your head up and get into position pronto. You have been warned.
Disclosure: I am long GLD, SLV.
Disclaimer: Gold-prices.biz or SK Options Trading makes no guarantee or warranty on the accuracy or completeness of the data provided. Nothing contained herein is intended or shall be deemed to be investment advice, implied or otherwise. This letter represents our views and replicates trades that we are making, but nothing more than that. Always consult your registered adviser to assist you with your investments. We accept no liability for any loss arising from the use of the data contained on this letter. Options contain a high level or risk that may result in the loss of part or all invested capital, and therefore are suitable for experienced and professional investors and traders only. Past performance is not a guide nor guarantee of future success.