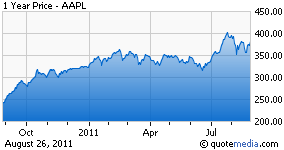 The most intriguing Apple (NASDAQ:AAPL) rumor since Steve Jobs' retirement is that the iPhone 5, due out next month, will work on any wireless network.
This decoupling of phones from networks has been approaching for some time. It's a capability you can expect Android makers to follow quickly.
The decoupling, combined with WiFi capability, could be horrible news for carriers. At a stroke it could remove their pricing power over customers.
That could be reflected in profits (and thus stock prices) of companies like AT&T (NYSE:T), Verizon (NYSE:VZ), Vodafone (NASDAQ:VOD) and Sprint (NYSE:S). It could give Apple and Google (NASDAQ:GOOG) a lot more power over their ecosystems.

The technology to do this has been around for some time, and this in fact could explain why Google decided to buy Motorola Mobility (NYSE:MMI). Power is about to shift from carriers to the companies which control content and software after-markets.
Phones have been great for carriers the last several years because they could use small price discounts on devices to push people into multiple year service contracts. An iPhone doesn't cost $500. It costs $200 with a service contract.
The implied interest rate on those contracts can be over 100%. Calculate it yourself. Take the length of the contract in months, your average cell bill, multiply it, then compare that number to the discount off the actual price of the phone. The coupling of devices to contracts also gives carriers the power to raise prices at-will, as with AT&T's recent move to start charging $20/month on all SMS messaging.
The new Apple phone won't end that price-gouging right away. Carriers will still sell phones along with service contracts in their stores. But it could lead to Apple Stores selling more phones without contracts, and thus more consumers holding phones without contracts, acting as free agents.
Something like that has been around in Europe for some time. Because most systems use the GSM standard, consumers commonly switch out SIM cards when they move between markets. This means more service contracts are short-term, and many phones are sold without them.
Decoupling phones from service contracts could also be big news for retailers like Best Buy (NYSE:BBY) if it catches on. They would be able to stock phones alongside other gear. You don't buy an ISP contract with our PC, do you? Why should that be true with your mobile device?
Disclosure: I am long GOOG.