By Joseph Hogue, Efficient Alpha
You can always tell how the market is doing by the mood around my office. When the market is trending up, everyone is bright and cheery. The sun is shining and all is right with the world. When the market is trending down, people are not so bright and not so cheery, but most understand the long-term behavior of Mr. Market and go about their daily business. When the market is behaving as it has been for the past month, however, people are tense. Market whipsaws of 3% or more send everyone to the asylum. Should I sell on strength or buy the dips? Cramer told me to do one thing, but Buffett is saying something else.
First of all, the best thing to do is stay calm and not make any investment decisions based on one day of trading. Take a look at your portfolio. Find the assets that might not match your long-term goals or those where your valuation theory might have changed. Then sleep on it. If the next day or over the course of a week you still want to rebalance then do so with a calmer head.
As stocks tank and pundits talk of recession, it's appropriate that investors look to protect a portfolio. Portfolio returns in the low single-digits is bad enough, but losing capital is like sitting on the third rail of the subway. Before you rush out to use some of the capital protecting strategies below, ask yourself these questions.
With the broader market already down by about -13.5% from its one-year high and almost a quarter from its five-year peak, there is significant long-term upside potential. Portfolio protection is best when markets are roaring and you want to preserve gains, not when everyone is jumping out the windows and trying to preserve capital. If you do not need the income from your portfolio within five years, while you may still want some protection for peace of mind, you will benefit most by courageously riding out the storm. If you will be withdrawing funds from your investments within the next two to four years and the amount currently invested is enough to meet your funding goals, you will probably want to take a more aggressive approach to protection. If you will be needing funds from your portfolio within three years and the recent market drop has depleted your investments to the point that they may not meet your goals, do not increase the level of risk in your portfolio hoping to win big. You see this in the casino all the time. Gamblers increase the riskiness of their bets hoping to just, "get back to even." If you find yourself in this situation, you need to reassess your goals and time horizon.
Where is the economy heading?
Many believe the recent weakness in market prices reflects a possible recession in the next 6-12 months. If this recession does not materialize, then stocks may significantly improve or at worse may trend sideways. While most indicators are pointing to a weakening economy, but not a recessionary one, the plunge in the Philadelphia Manufacturing Business Outlook Survey (BOS) to -30.7 in August may be a signal of things to come. The BOS measures the percentage of firms reporting an increase in business relative to the number of firms experiencing a decrease in business activity. The economics group at Wells Fargo found that, with the exception of the 1973 and 2007 recessions, the index declined at least one month before every recession since 1969 (click for pdf). Additionally, since 1968, an index reading of -22 or less has always been followed by a recession. Though I generally believe the economy will slog through at an above zero pace over the short-term, the reading from the BOS does shake my faith a bit and I am taking some precautionary steps as well.
The graph below shows the price movement of the S&P 500 from the point at which the market reached -13.5% through the next 250 days for the period 1975 to present. To build the graph, I downloaded daily prices from Yahoo Finance and found the maximum point for rolling one-year periods back to 1975. I then graphed the price movement from the first point where the market hit -13.5% from its 52-week maximum. The result was seven periods from 1980 to the most current recession in 2008. All periods showed continued weakness up to about one month after -13.5% was breached. Outcomes to the end of the period varied widely from up about 20% to down another 20%. I do not present the graph as any reliable form of technical analysis, but more to the point that the market's potential to decrease is just as strong as its upside potential. Those investors with significant needs for short-term cash should look at ways for preservation of capital while those with longer-term goals may be able to ride out the storm.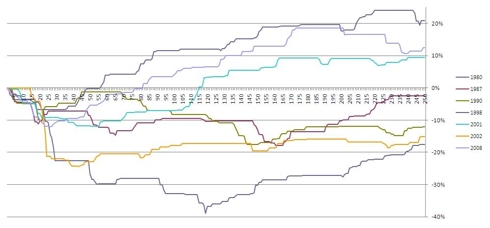 After you have made the decision to protect your portfolio from further losses, then comes the decision as to which strategy you will use. All strategies will limit your upside potential to some degree. This is the price you pay for downside protection and peace of mind. As you reduce risk from a well-diversified portfolio, so too must you accept a lower return.
If you are extremely confident in the stocks within your portfolio, then you may want to buy protection in the form of puts against or shorting the broader index. The idea is that your stocks, whether they be value or growth plays, will perform better than the index regardless of the economy. I am generally bullish on Cisco's (NASDAQ:CSCO) long-term position and think the company's relative underperformance and huge cash stockpile will support it through any short-term economic weakness. If I wanted to protect my portfolio from general economic weakness but still wanted to benefit from upside potential in Cisco, I could buy put options on the SPDR S&P 500 (NYSEARCA:SPY) currently trading at $118 per share. The date and strike of the options is up to you and depends on the level of protection you require. Most economists are predicting a stronger second half. If this does not materialize and we are bound for a further dip in the economy, we should know it by December. A strategy of buying the March 2012 puts will give you time to sell the options back without experiencing a total loss if the economy does turn higher. The SPY March 2012 options with a strike price of $118 are trading for approximately $10.35, a hefty premium, but have been as high as $12.22 over the last week. If the economy turns further south, then I can use some of my gains from the SPY puts to offset any short-term weakness in my Cisco position.
Another common protection measure using options is buying puts on the actual stocks held in the portfolio. This is a more direct way to protect your capital and is commonly known as portfolio insurance. In this scenario, an investment in Cisco, currently trading around $15.40, would be protected by purchasing puts against the same number of shares held in the portfolio. The December put options with a $15 strike price recently traded for $1.06 per share. Buying these puts gives you the right to sell the shares for $15 each on December 16. If the shares fall considerably and trade for under $13.94, the profit you realize from the options will offset some of the loss you experience on the shares held in the portfolio. For example, if the shares close at $13 on the expiration day, you will have gained $.94 on the options and lost $2.40 on the shares for a net loss of only $1.46. The strategy reduces your loss from -15.6% to -9.5%. Please note that buying the puts as protection also means that the shares will have to increase further for you to make up for the premium paid on the options. If the shares do not close below $15 on expiration, you will be out the entire $1.06 premium.
A popular strategy in weak economic times is to invest in economically resilient companies. These companies, or defensive stocks, earn revenue on products that are largely resistant to economic swings because of their necessity to consumers. Two of the best examples are Procter & Gamble (NYSE:PG) and Johnson & Johnson (NYSE:JNJ). Over the last three months, PG and JNJ are down -4.5% and -1.5%, respectively, while the S&P 500 is down -12%. Not only are these companies less likely to see their revenues fall significantly during a recession, but they also pay a hefty dividend of 3.4% for Procter & Gamble and 3.6% for Johnson & Johnson. Investors should understand that, while these shares will not fall as far or as fast as the general market during economic weakness, they will also not experience super-normal growth once the economy rebounds. This is an idea I developed further in a recent article naming Johnson & Johnson the best boring stock you will ever own.
Many investors are flocking to gold for its security and protection against inflation. Wednesday's market drop of 5.6% in the price of gold may signal a turn in its historic climb or it may be a buying opportunity. I personally feel there is too much speculative buying in the metal as evidenced by the commodity's run-up in price without a commensurate upswing in the stocks of the companies that extract it. Investors and speculators are rushing in to purchase the metal but are not willing to bet on the long-term proposition of the companies producing it. Since July of 2008 the SPDR Gold Shares (NYSEARCA:GLD) is up over 80% versus an increase in the Market Vectors Gold Miners ETF (NYSEARCA:GDX) of only 23%. Further, although commodities have outperformed stocks during specific periods, they have underperformed equities over the long-term. I would much rather buy a value-creating asset, such as a company stock, than a store of value. There are those that will vehemently disagree, and I welcome your comments.
Another possible avenue for recession-protection, and one I am sure will receive just as many comments in opposition, is an overweight position in emerging markets. I recently wrote about the performance in three emerging market funds relative to the S&P 500 over the last three months. Even the poorest performing of the three still outperformed the domestic market by 1.7% and I believe emerging markets will continue to outperform the U.S. and European markets. Reasons for this include the relative strength of emerging market economies and their improved financial positions relative to past downturns. Investment in emerging markets will not only help protect your portfolio through diversification, but will also benefit from a strong consumer and a relatively stable banking sector.
Disclosure: I am long CSCO.