It's not in our sweet spot, but since it's one of the few deals still in marketing, we decided to take a look at HomeStreet Bank (NASDAQ:HMST). This is a good-quality regional bank turnaround story that is now seeking capital through an IPO to restore its regulatory capital.
Regional bank turnaround stories are excruciatingly boring, but they can offer great returns for investors who get in at the right time and price. Even though banks now make most of their money from services, they still trade based on a multiple of book. That's the main sticking point on this deal.
The proposed price range is $22-24 which represents about 0.76x the pro-forma book value of $30. Today most regional banks are trading at a slight discount to book. There is a wide range, though, with many trading at 1/3 of book value -- Community West (NASDAQ:CWBC), Bank of America (NYSE:BAC) -- and some trading above book -- East West Bancorp (NASDAQ:EWBC), Wells Fargo (NYSE:WFC). So investors need to assess where HomeStreet will settle out.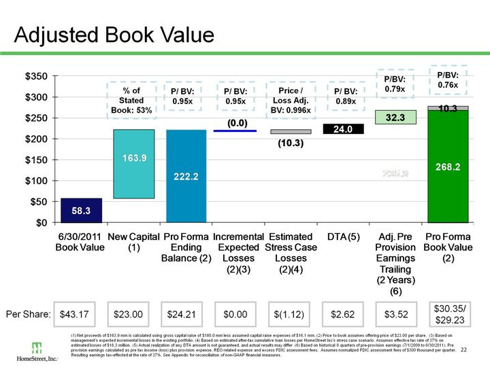 Click to enlarge
HomeStreet could do a smaller deal, but then pro-forma book value would be decreased. Based on the pro-forma analysis of leverage and capital ratios, it appears that the price could be cut in half, and it would still give HomeStreet enough capital to be well-capitalized by regulatory standards.
In conclusion, we'll remind everyone that we are far from regional bank analysts, but at $22 HomeStreet is fairly attractive. Economic uncertainty in general and risks to growth in residential real estate are the key factors that could delay some of the improvements HomeStreet management is working toward. Since July the Regional Banking ETF (NYSEARCA:KRE) is down about 20%. There are probably plenty of better bargains out in the regional banking sector if one had the inclination and expertise to sort through them all.
To their credit the management team, portfolio of services businesses and assets are solid and should provide investors with solid results over the next few years. They have been steadily reducing delinquencies (23% to 9%) and improving net interest margin (0.85% to 2.35%) over the past two years.

Disclosure: I have no positions in any stocks mentioned, and no plans to initiate any positions within the next 72 hours.