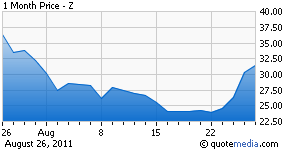 Zillow (NASDAQ:Z) has some promising developments from their latest earnings report. Known for their Zestimate home values, Zillow was the darling of the housing boom. Those times have long since disappeared and Zillow's hype has died along with it.
Zillow may once again be in the spotlight. I'm still bearish on the housing market but Zillow may be a great investment opportunity for long term investors.
Here are some highlights from their latest earning report:
- Marketplace Revenue - Revenue has increased 269% to $9.7 million compared to the same quarter the previous year. The increase was mainly attributable to the increase in the amount of Premier Agent subscribers. These subscribers pay Zillow on a straight-line contractual basis. Premier Agents display ads near home listings they serve. Marketplace revenue represent 61% of total revenues for the 3 months ended June 30, 2011.
- Premier Agent Subscribers - Zillow saw a subscription increase of 180%, now totaling 13,385 subscribers. This increase was primarily due to their partnership with Yahoo Real Estate.
- Unique Users - Amount of unique users increased 93%, to a record 20.8 million in the second quarter of 2011 compared to 10.8 million unique users in the same period last year. This in turn helped increase display revenue by 30%. Zillow saw revenue of $6.1 Million.
- Net Income - Zillow had its first net profitable quarter generating $1.6 million. This could mark a big turning point for Zillow. This is especially true considering they have $64 million in NOL that they could carry forward.
- Mobile Application - Zillow recently launched a Zillow Mortgage App Marketplace which allow borrowers to send loan requests and connect with verified lenders. Zillow has mobile real estate applications that cover all the major phone operating systems. Zillow was 11.9 million times from mobile devices.
Zillow is in a unique situation where they may be isolated from being heavily exposed directly to the housing market. If Zillow could continue to expand their Premier Agent program they could potentially grow earnings even though the housing market slows down. This has a lot to do with their potential market. There are about 300,000 real estate agents in the United States and Zillow currently has a little over 13,000 in the program. During tough markets, agents need more exposure to stay in business. Agents then do more advertising and marketing to generate more sales. This in turn could generate additional subscriptions for Zillow.
I like Zillow's prospects long term but feel the stock may have gotten ahead of itself. I feel pullbacks are great opportunities to buy and play as short term trades. I will keep an eye out for signals that the housing market may be in trouble once again. A severe housing decline may cause many realtors to leave their business which may endanger Zillow's earnings.
NOTE: All information provided is for educational purposes only and not in any way to be considered investment advice. All information is to be considered the opinion of the author and is not to be considered a solicitation to invest in any company.
Disclosure: I have no positions in any stocks mentioned, and no plans to initiate any positions within the next 72 hours.