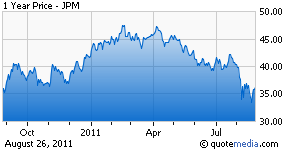 JPMorgan (NYSE:JPM) is widely recognized as one of the best run banks in the country. CEO Jamie Dimon is well respected and is seen as the top dog in the banking industry. However, even J.P. Morgan's stock has suffered this year as the entire industry has hit hard times. Their stock is down 16% since the start of the year, underperforming the broad markets despite doing better than their competitors.
There is no doubt the banking sector is out of favor right now. Valuations, even for J.P. Morgan, are cheap. The worst case scenario for the economy seems to be priced in. J.P. Morgan is trading at a Price to Book ratio of about half of its long term average. That suggests a healthy amount of upside at today's price. Some competitors like Bank of America (NYSE:BAC), Goldman Sachs (NYSE:GS), Citigroup (NYSE:C), and Morgan Stanley (NYSE:MS) are even cheaper. J.P. Morgan should be seen as more stable, though.
I like to follow some well know investors to see how they trade the stock. Undoubtedly these portfolio managers respect J.P. Morgan's leadership, but what do they think about the stock price? Below are how some big hedge fund and mutual fund managers positioned themselves in J.P. Morgan in the second quarter:
The most notable transaction was hedge fund manager Steve Mandel's exit from J.P. Morgan in Q2. Mandel runs Lone Pine Capital and is a savvy investor. He's known as a Tiger Cub, one who learned under legend Julian Robertson at Tiger Management. He dumped 7.4 million shares in the second quarter and is completely out of his position. In hindsight, that proved to be a smart move. J.P. Morgan's stock is down 13% since the end of the quarter. The stock may been considered cheap last quarter, but it's cheaper now.
A few other well-known investors initiated positions in the bank last quarter. Ken Heebner of Capital Growth Management, a mutual fund company, and Jim Simons of Renaissance Technologies, a hedge fund, both bought into the stock. Heebner bought about 1.4 million shares. The stock makes up just under 1% of his portfolio. Simons bought about 4.9 million shares and the stock makes up about 0.75% of his portfolio. Each one of these investors tend to go in and out of stocks quickly. They've traded around their J.P. Morgan positions in the past.
Lee Ainslie runs Maverick Capital, a $10 billion hedge fund. Ainslie is also a Tiger Management alum. He is a big believer in J.P. Morgan. The stock makes up 4.3% of his portfolio and is his second largest holding, behind Citigroup. Ainslie increased his stake in Q2 by 4.8 million shares and now owns 10.8 million shares in total.
Hedge fund manager and fellow Tiger Cub John Griffin is also a big J.P. Morgan holder, but he's been trimming his stake lately. The stock makes up about 3% of his portfolio and is his 10th largest holding. He sold about 1.9 million shares last quarter and continues to hold just under 5 million. J.P. Morgan is his largest bank position and he seems to favor other industries. Griffin's largest holdings are Valeant Pharmaceutical (NYSE:VRX), Apple (NASDAQ:AAPL), and Amazon (NASDAQ:AMZN).
Disclosure: I am long BAC.