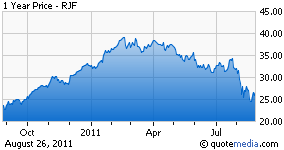 Generally I don't do financial stocks. While I have worked for several financial firms in my past, I have eschewed owning their equities. To put it bluntly, banks and investment banks are merely highly levered black boxes. You cannot analyze a million loans that Citibank has made. Or the billions of mortgages on Bank of America's books that they got from Countrywide. It's simply impossible. In essence these are organizations built to leverage shareholders for the benefit of the employees. Work for them, don't ever own their stocks. That still remains true. Mostly true anyway.
The one bank I think is interesting right now is Raymond James Financial (NYSE:RJF). It's a stock that is underfollowed, considered quite boring by the sellside, and tends to operate quietly but profitably in its own niches. Since they are an investment bank located outside of NY, generally they are considered second tier. Don't be fooled though. Top management, including the founder's son Tom James and his partner Bo Godbold, are Harvard Business School grads. Southern, but no dummies. They hire top talent there, the place is littered with HBS people.
To be fair, I worked there a long time ago, right out of college starting in 1993. Perhaps I am biased. But I will never forget the question they asked us on the first day. "Who do you think has generated more in profits in the past decade? Raymond James, or Solomon Brothers?" Well, surprise the answer was RJF.
Overall though, the biggest take away from my time there was that management liked slow, steady growth, and was almost boringly conservative and cheap. The firm focuses on generating high-ROE type business such as advisory work, brokerage, and fee-based money management. And, best of all they shun risky proprietary trading and leverage, the combination of which all but blew up Wall Street in 2008.
So what has this slow growth, high ROE strategy done for the firm since 1993? Well, the stock has traded from $2 per share (split adjusted) to $25.50 today. That is almost a 13 bagger in 18 years. By the way, I left out the dividends!
Book Value
Book value and ROE's are the most important metrics to look at when analyzing financial stocks. Then, leverage needs to be looked at very carefully. You can always boost ROE's via massive leverage. But that can also blow you up. Just ask American International Group (NYSE:AIG), Lehman Brothers or Bank of America (NYSE:BAC). A mere 5% decline on your assets on a 20x leveraged book will certainly bankrupt you.
Throwing out just a few numbers, RJF has a book value of $20.74 a share, trades at $25.50 a share today and will do around $2.50 a share in EPS in 2011. That's a 10x multiple (or 10% FCF yield). Since RJF only generates 30% of its pre-tax income from banking activities, and the rest from its fee-based businesses, it's far less risky than almost any other bank out there. It's more like a T Rowe Price (NASDAQ:TROW) or a Franklin Resources (NYSE:BEN) than a JP Morgan (NYSE:JPM) or Bank of America. That is, it generates most of its high returns from bread and butter brokerage and asset management business as opposed to banking/trading activities. Finally, TROW and BEN trade at 14 and 17x, and between 3 and 4x book value.
To illustrate how well run the company is, take a look at Book Value per share and ROEs over the past 5 years. It even grew in 2008 throughout the crisis:
Book / Share at Year End
2006 $12.83
2007 $15.07
2008 $16.18
2009 $17.11
2010 $19.03
June 2011: $20.74
ROEs
2006 15.7%
2007 15.6%
2008 13.0%
2009 7.9%
2010 10.6%
2011 June 13.5%
Finally, revenue has grown at a compounded annual growth rate of 7.5% since 2006. Again, that is through the cycle and quite impressive.
Leverage
And finally, all this ROE is generated using leverage of only 4.7x. The internal bank's leverage is probably around 9x, but with so many other, high ROE fee-based businesses within the firm, the overall net leverage is much lower. Compare that to BAC which is 14.3x levered, and generates zero ROE right now because its mortgage portfolio continues to be so problematic. Why own a more levered, lower ROE business than one with solid management and far less risk? That is, unless you have $5BB looking for a home. RJF is down 34% from its highs back in February, I don't see how it's in the same bucket as Citi or BAC (down 38% and 43% ytd).
Why has RJF stock underperformed?
The obvious answer is that all banks are getting crushed right now. And all of them are struggling with how to generate higher ROEs in a higher capital requirement world. But RJF does have a bank, and that bank has mortgages, so it's worth looking at what the impact of their mortgage portfolio could be.
Balance Sheet Risk: Residential Mortgages
As far as risk to the balance sheet, the biggest item is the $6.4BB of loans that the bank has made. The biggest category is commercial loans which make up $3.9BB of the total $6.4BB. Fortunately, the commercial loan category is the best one to be in right now. Corporate margins are high, spreads are decent, and commercial lending never quite had a bubble like the mortgage market. The loans that are non-performing, or NPL's (in default, or over 90 days past due) adds up to $140mm. That's about 2% of the total. Further, they have already built up $146mm in loan reserves. So it's not likely we'll see big loan loss write downs going forward.
Compared to 2008, back then the loan allowance was only $88mm, on a book of $7BB in total loans. So, today RJF has $146mm of loan allowances on $6.4BB of loans, and clearly they have really increased their reserves and are more conservatively positioned.
As far as residential mortgages, the firm has $1.8BB of its $6.4BB in loans in consumer/residential loans. This is 28% of outstanding loans, far lower than other banks, especially big banks that bought mortgage lenders before the bubble popped. Furthermore, FICO scores average 751 (well above prime), with LTVs averaging 66%. Given that NPL's have been steadily declining, I suggest that their bank book is quite healthy.
Stock Buybacks and Dividends
Last Thursday, RJF announced an expanded stock buyback plan. They are now authorized to purchase up to $75mm of RJF stock and notes on the open markets. Further, they raised their quarterly dividend by 18% back in November last year. They also announced a $0.13 per share dividend to shareholders payable in October. Dividends have grown at a compounded rate of 10.2% since 2006. Pretty impressive given that that is through a very ugly cycle. Today the stock yields 2%.
Stock Performance, Downside Risk
So, to look at the downside of RJF from here, I contemplate a Fall 2011 similar to Fall 2008. Back then, the stock fell from $30 per share, to around $16-17 per share. At the time, book value/share was $15.07, so the stock fell from 2.0x book value, to 1.1x book value.
This year, the stock has already fallen from roughly $39 per share, to $25.50 today. So, book value/ share has fallen from 1.9x, to 1.2x today. So, on the downside I assume the stock falls back to 1.1x book, and book value stays flat. Understand though, that book value continued to grow in 2008, so I doubt really that book stays flat. Using 1.1x book multiple however equates to a $22.80 stock price, or down 11%.
Upside
The upside case is that we emerge from this likely recession/downturn in a year or two, the company continues to grow book value, and it trades back to its historical level. To be specific, over the past 10 years, RJF has traded at an average TTM BV/share multiple of 1.8x. Assuming a weak 10% ROE, or a BV/share of $22.80 in a year (give or take), a 1.8x multiple would get you a $41 stock. Upside of 61%, downside of 11%. This isn't a crazy level at all in my opinion, the stock was over $39 back in February this year.
Good Luck.
Disclosure: I am long RJF.