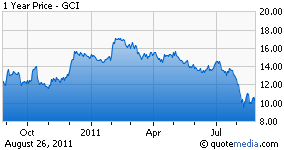 Gannett (NYSE:GCI) has recently been unjustly punished in the market. GCI is an international media and marketing solutions company with a robust business. The company operates in three segments: publishing, digital and broadcasting. Gannett publishes 82 daily U.S. newspapers, including USA TODAY, the daily print newspaper, and about 600 magazines, including USA WEEKEND. Gannett also operates 23 television stations in 19 markets and Captivate, which operates video screens in office elevators in key urban markets. Gannett's subsidiary, Newsquest, is the United Kingdom's regional community news provider with 17 daily paid-for titles and more than 200 weekly newspapers, magazines and trade publications.
In December 2009 the company returned to profitability as media and advertising has made a significant comeback now that the world is no longer in systemic financial crisis risk. Since then the company has traded at a P/E ratio as high is 10.5 and now currently trades at a P/E of 5. Earnings have been stabilizing around the $2.20 to $2.50 range. As this price continues to be impacted by the broader market and earnings maintain their course this terrific company's price has nowhere to go but up in the long run. Famed investor Warren Buffett even holds a stake in Gannett, further proof that this sustainable company has a solid footing.
GCI pays a dividend of $0.32 per year, a yield of a little more than 3%. As investors wait for price appreciation they will be earning a higher yield than nearly all treasury securities on the market. If we lay over a P/E ratio of 7.5 we are expecting a price between $15 and $18.75. This is leaving GCI with a potential upside from current levels of between 40% and 77%. Whether this price is realized in the short run of three to six months or over a longer term of two to four years this company is priced far too cheap to ignore.
I highly recommend a long position in this company at any price between $10.00 and $11.00. Recently in the turmoil the company has seen significant support at the $9.50 level and I would consider that price to be the floor for this stock.
Disclosure: I am long GCI.