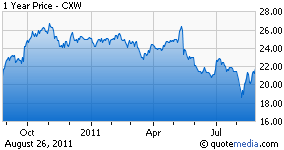 The last month has left many investors wondering where to put their money to safeguard against a possible double dip recession. Most stocks have been volatile among fears of a macroeconomic slowdown, yields on treasuries have shrunk to insignificance despite a downgrade of the U.S. credit rating, and even the traditional store of value, gold, appears bubbly amid the widespread fear. At the same time, with inflation threatening to run wild in the wake of multiple rounds of government stimulus, investors can't be entirely safe in cash either.
Many pundits recommend positions in defensive stocks, such as consumer staples Johnson & Johnson (NYSE:
JNJ
), Procter & Gamble (NYSE:
PG
), McDonald's (NYSE:
MCD
) and Coca Cola (NYSE:
KO
), arguing that these firms offer products that are less effected by the problems facing our economy. But what about firms that might actually benefit from hard economic times? I decided to take a look at one such firm, Corrections Corporation of America (NYSE:
CXW
).
Corrections Corporation of America designs, builds, manages and operates correctional facilities and detention centers on behalf of the Federal Bureau of Prisons, Immigration and Customs Enforcement, the U.S. Marshals Service, nearly half of all states and nearly a dozen counties across the country. The firm is well positioned to benefit from current economic circumstances. As the economy teeters on the brink of another recession, continued high unemployment contributes to increased crime rates that tax an already overflowing prison system. At the same time, local, state and federal governments are desperately looking for places to save money in response to fiscal crises taking place at all levels of government. Government run prisons are expensive. Historically, governments have sought to control prison costs in a recession by releasing select low risk inmates early, but many of these inmates end up back behind bars within a few years, resulting in a spike in populations a few years down the road.
Take a look at 2009, where populations actually decreased slightly, indicating that many prisoners were released early. Governments hit the early release button hard, but those early releases might be coming back in the next couple of years. Further exacerbating the prison overpopulation problem, no state government has allocated funding for new prisons in the last two years. If governments can't reduce populations and save money in the long term by releasing prisoners, they might consider cost cutting in the prison system by other means. And with CXW's cost effectiveness, private partnering may be in the cards for many states and municipalities.
With a growing prison population and shrinking budgets, it seems likely that more government agencies will find themselves switching to a privatized partnering system, and with just 10% of U.S. inmates in private partnership beds, there's plenty of room for growth in the industry.
If you're convinced that the fundamentals for CXW are good, the next item that warrants examination is the fiscal situation of the company. The company carries a solid balance sheet. Book value per share sits at $14.26, which equate to a P/B of 1.57. Combined with a very stable revenue source, the company's book value sets a pretty solid lower limit on the stock. The company trades at 14x earnings, well below its five-year average P/E of 20. Growth is consistent, with EPS steadily increasing for the past five years, regardless of economic conditions. Debt is under control with a current ratio of 1.89. While it's hard to say that the company is significantly undervalued at current prices, the underlying business and earnings are largely recession proof, and may even benefit from current macroeconomic problems. If the stock were to fall along with the rest of the market, it could represent a significant value.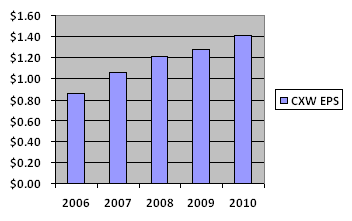 There are, of course, risk factors to consider when making a decision on whether or not to purchase the stock. First, CXW does not pay a dividend, so any potential gain would be from share price appreciation alone. Management has committed to share repurchases totaling $500 million, which increased from $350 million on August 15, but while management may think spending the company's money to buy the stock is a bargain, they are decidedly against spending their own. Net insider transactions this year stand at -$14.6 million through Q3, with no insider purchases. Additionally, the company's share price historically suffers in a depression, even though the underlying business may not. CXW fell along with the market during the 2008-2009 crisis, bottoming out in the $9 range despite stable fundamentals and an improving bottom line during the period, so there may be opportunities to buy the stock at a lower price in the near future.
Corrections Corporation of America represents an interesting opportunity. While I don't think that the company offers an overwhelming value at its current price, favorable fundamentals and a recession resistant bottom line should put it on your radar as a possible buy should the share price fall in line with the general market in a widespread slowdown. Keep an eye on this company as one that could be unjustifiably beat down by the market in the coming weeks or months. As always, please do your own due diligence before investing.
Disclosure: I have no positions in any stocks mentioned, but may initiate a long position in CXW over the next 72 hours.