If I only knew back then what I know now. Don't you'd think I'd learn that during a recession the consumer who is uncertain about his job puts off buying a new car (and 60 months of car payments) and just decides to fix up the one they've already paid for? A Barchart comparison for the weekly price percentage change of O'Reilly Automotive (NASDAQ:ORLY) vs. the S&P 500 over the past 3 1/2 years shows why I wish I'd had that hindsight: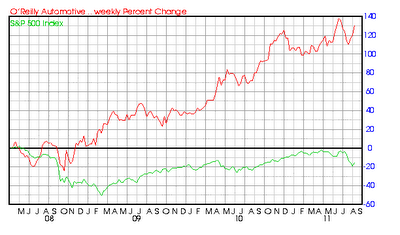 O'Reilly Automotive, Inc., (ORLY) together with its subsidiaries, engages in the retail of automotive aftermarket parts, tools, supplies, equipment, and accessories in the United States. The company's stores provide new and remanufactured automotive hard parts, including alternators, starters, fuel pumps, water pumps, brake system components, batteries, belts, hoses, chassis parts, and engine parts; maintenance items comprising oil, antifreeze, fluids, filters, wiper blades, lighting, engine additives, and appearance products; and accessories, such as floor mats, seat covers, and truck accessories.
Its stores also offer auto body paint and related materials, automotive tools and professional service provider service equipment. The company's stores sell its brand name and private label products for domestic and imported automobiles, vans and trucks to do-it-yourself customers and professional service providers. As of March 31, 2011, it operated 3,613 stores. The company was founded in 1957, and is headquartered in Springfield, Missouri.
What are the factors that have helped the company ride out the recession, and what are its prospects for the future? First let's look at what is happening to the recent price action:
Barchart hourly trading momentum over the last month: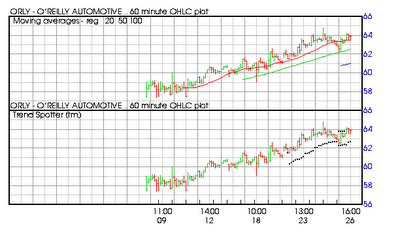 Barchart technical momentum indicators:
Barchart 48% technical buy signal that is strengthening
Trend Spotter buy signal
Above its 20, 50 and 100 day moving averages
14 new highs and up 7.10% in the last quarter
Relative Strength Index 61.44% and rising
Barchart computes a technical support level at 61.50
Recently traded at 63.98 which is above its 50 day moving average of 62.18
Wall Street brokerage analysts have some mixed thoughts on this stock
Sales are projected to increase by 7.10% this year and another 7.00% next year
Earnings are forecasted to increase annually by 15.88% for the next 5 years
Based on these projection analysts have issued 5 strong buy, 6 buy and 8 hold recommendations. In addition there are 4 under perform forecasts that seem to be based on the assumption that the end of the recession is just off the horizon and the masses will start buying new cars and instead repairing their old ones.
I'd like to add that in the past, this stock has had high price stability and great predictability of earnings so I'm inclined to bank on the sales and earnings projections
General investor interest:
The readers of Motley Fool also think the numbers are solid and have voted 95% that the stock price will beat the market
The more experienced and savvy All Stars agree with a 94% vote for the same result
Summary: O'Reilly Automotive has enjoyed an almost unbroken stream of sales and earnings increases, and the consistent price momentum has been a result of that. O'Reilly stockholders have gotten a 16% annual return over the last 5 years, and I'm betting that will continue. Investors buying in at this level should enjoy a 14% - 17% total return over the next 5 years.
Disclosure: I have no positions in any stocks mentioned, and no plans to initiate any positions within the next 72 hours.