As is the case with most corrections, this correction has been brutal. Investors have been throwing away the "baby with the bath water," as Wall Street pros say. One of these companies is Stryker (SYK), a leader in medical surgical equipment and orthopedic implants. At $46, the company is nearly 25 percent below its pre-correction price.
Though part of the correction has to do with budgetary cuts, Stryker is in the right business at the right time, as it is riding the trend of the massive aging of the baby-boomers. Since it went public in 1979, sales and earnings have grown at a very rapid rate, with sales reaching 7.3 billion in 2011 (an 8.9 percent increase over the previous year) and earnings per share of $3.33 (a 12.6 percent increase over the previous year leading to a P/E ratio of 14.7). This strong performance has allowed the company to raise its dividend from 0.50 cents in 2009 to 60 (1.20 percent) cents in 2011, the sixth consecutive increase since 2004.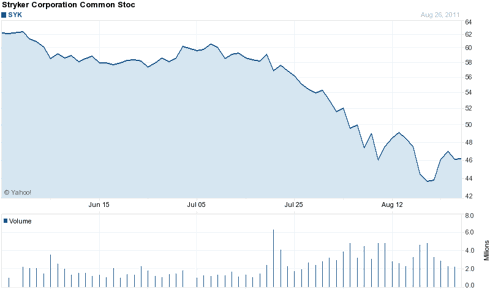 Stryker's success comes from three sources:
1. Operational effectiveness, the ability to cut costs and improve quality to comply both with strict FDA standards, and government mandates to reduce healthcare costs.
2. The introduction of new products, through internal R&D and the acquisition of other companies. In 2010, for instance, the company received 108 patents, and acquired the Neurovascular business of Boston Scientific.
3. The nurture of a strong corporate culture, ranked 68 among the "100 Best Places to Work For" in the 2009 listing.
Stryker is firing on all cylinders and is gaining market shares in the industry. Its strong performance sharply contrasts with the one of its closest competitor Zimmer Holdings (ZMH) that only experienced a 2.5 percent sales growth and a -77.50 earnings growth. Stryker's stock has gained over 20 percent over the previous year—though both stocks trade in tandem. Stryker is a stock to buy and forget that you own it for the next 10 years.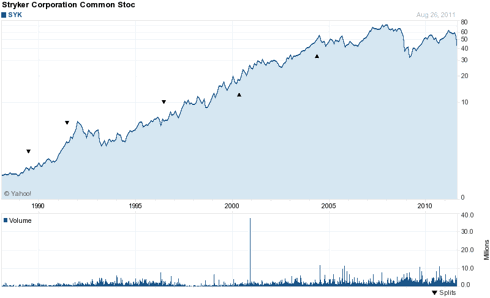 Disclosure: I am long SYK.